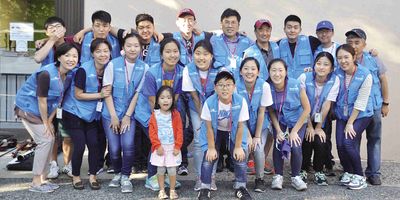 Starting on July 4 for 1 week, student volunteers conduct relief activities at a Haitian orphanage site, holding a music concert and helping to build schools.
The volunteer relief team composed of Korean students resolve to convey hope to the Haitian orphans growing up in one of the poorest countries in Central America.
This year, 'The Helping Hands Mission Network,' an organization that aides the transfer of drinking water, rice, medicine and other relief supplies to Haitian orphanages, changed its corporate name to 'The Corner International' in order to expand the scope of practical education ministry in support of the Haitian orphans.
'The Corner International' Representative Reverend Hang Seok Joh stated that the organization sent the student relief team to Haiti in order to proceed with local Haiti relief efforts.
The dispatched relief team is scheduled to deliver food to 10 orphanages in Haiti's capital Port-au-Prince, while also spreading a message of hope and encouragement by holding a musical concert for the orphans.
Around 10 orphans will be enrolled in schools starting in September, and 3 orphanages have plans to expand their ministry by building their own schools as well.
Currently, 'The Corner' offers not only food assistance to 500 orphans belonging to 10 orphanages in Port-au-Prince but also regular medical checkups, school registration, and monetary support for the orphanages. There is also work in progress for establishing housing in Cite Soleil, the largest slum in Haiti.
'The Corner' wishes for the Korean community to participate in the relief work for Haiti orphans.
Originally reported by Ji Eun Kim
Original article manuscript can be found here
Translated/Adapted by Hankyul Sharon Lee