Does one have to be slim and tall to be "beautiful?" Although the definition of beauty differs, this upcoming Snow White parody feature film seems to say so, based off of its poster for the Cannes Film Festival.
In the poster for Red Shoes and the 7 Dwarfs, two female characters — one tall and thin and another shorter and heavier — are standing side by side, with the billboard reading, "What if Snow White was no longer beautiful and the 7 Dwarfs not so short?"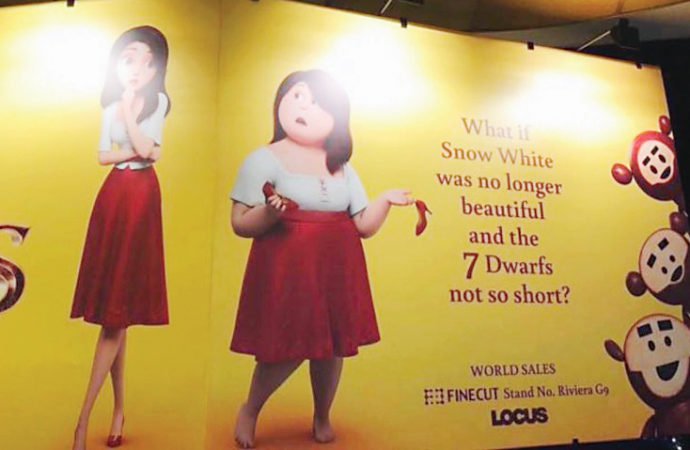 After a Twitter user posted an image of the billboard on May 25, it quickly went viral, receiving negative feedback from many who were enraged by its body-shaming message.
In addition to the Cannes poster, its trailer has also been accused of containing misogynistic messages. In the trailer released through YouTube on December 6, 2016, two dwarfs hide under the table of Snow White's bedroom and watch her secretly as she undresses. The two voyeurs react in awe and disgust as she transforms into the heavier version of her.
Chloë Grace Moretz, who lends her voice to the main character, also criticized the ad's message, commenting that she is "just as appalled and angry as everyone else."
I have now fully reviewed the mkting for Red Shoes, I am just as appalled and angry as everyone else, this wasn't approved by me or my team

— Chloë Grace Moretz (@ChloeGMoretz) May 31, 2017
Pls know I have let the producers of the film know. I lent my voice to a beautiful script that I hope you will all see in its entirety https://t.co/IOIXYZTc3g

— Chloë Grace Moretz (@ChloeGMoretz) May 31, 2017
The actual story is powerful for young women and resonated with me. I am sorry for the offense that was beyond my creative control https://t.co/HZP2ydPCAX

— Chloë Grace Moretz (@ChloeGMoretz) May 31, 2017
Locus Creative Studios, the film's production company, has now terminated the contentious marketing campaign. One of the producers, Sujin Hwang, also released the following statement to Salon:
As the producer of the theatrical animated film "Red Shoes and the 7 Dwarfs", now in production, Locus Corporation wishes to apologize regarding the first elements of our marketing campaign (in the form of a Cannes billboard and a trailer) which we realize has had the opposite effect from that which was intended. That advertising campaign is being terminated.
Our film, a family comedy, carries a message designed to challenge social prejudices related to standards of physical beauty in society by emphasizing the importance of inner beauty. We appreciate and are grateful for the constructive criticism of those who brought this to our attention. We sincerely regret any embarrassment or dissatisfaction this mistaken advertising has caused to any of the individual artists or companies involved with the production or future distribution of our film, none of whom had any involvement with creating or approving the now discontinued advertising campaign.
The 3D animated feature Red Shoes and the 7 Dwarfs is directed by South Korean director Hong Sung-ho. The film was produced in English, targeting international audiences. The exact release date has yet to be announced.
By Heewon Kim