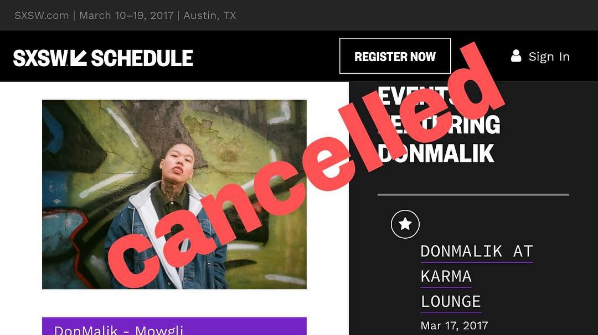 Don Malik, a rising Korean underground rapper, has been denied entry into the United States on his way to Austin, TX for SXSW, an annual conglomerate of film, interactive media, and music festivals and conferences.
On March 15, Don Malik's label Daze Alive announced that the artist cannot hold the planned showcase at the festival, having been denied entry into the United States at San Francisco International Airport.
"Don Malik, who has been invited to the international festival SXSW in Austin, TX, cannot hold the showcase planned at Karma Lounge on March 17 because he has been treated unfairly and denied entry into the United States," announced the label through the official statement.
"Don Malik and his coworkers had ESTA approvals under the condition of not performing any for-profit activity," continued the label in the statement. "SXSW showcases are held as unpaid performances and the contracts with SXSW as well as other related documents the artist was carrying at the moment clearly mention such conditions."
"However, they were denied entry into the country and remanded for 24 hours. Not only did the immigration employees treat the crew with racism, calling them 'chinks' and pulling their ears, but they also impounded cell phones, which precluded the possibility of local aide."
According to music magazines like Pitchfork, at least seven other SXSW teams including Italian band Soviet Soviet and Danish artist ELOQ have been deported for similar reasons.
By Heewon Kim