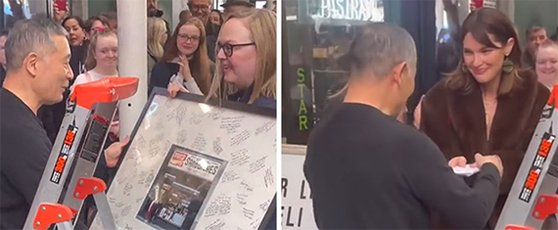 A Korean-American-owned deli on Broadway in New York City that was in business for nearly 40 years is closing, and the Broadway community has organized a farewell party for them.
According to local media, Starlite Deli, founded in 1984 by Korean-American Kim Min (71) on West 44th St. in New York City, is closing down. High rent prices in New York City, the COVID-19 pandemic, and Kim's age were reportedly the reasons for the closure of the deli.
Born in Seoul in 1952, Kim immigrated to the United States in 1981 and opened his deli three years later in 1984. Kim and his wife worked 14 hours a day, seven days a week, for 39 years, making it one of the most beloved spots for Broadway stars in the Theatre District.
On their last day of business, a video surfaced on TikTok of the couple's regulars and Broadway stars congratulating the Kims on their retirement. The group sang songs for them and gifted the Kims with framed photos of their deli, along with thank-you notes and a donation of $17,839. Mr. and Mrs. Kim were moved to tears by the gesture.
As a fan of Broadway musicals such as A Chorus Line and Phantom of the Opera, Kim said he was proud to provide food for the actors and troupe members.
James Monroe Iglehart, who played Genie in the recent Broadway hit "Aladdin," told Fox News that "[Kim's deli] is the place to go. On my first Broadway show I came here."
In a local media interview, Kim said he plans to spend more time with his wife and three kids in the future, but he's also concerned about the 14 employees who used to work at his store.
"Five of them have jobs lined up," Kim said, "but I'd like to see all of them secure a job before I close the store for good."