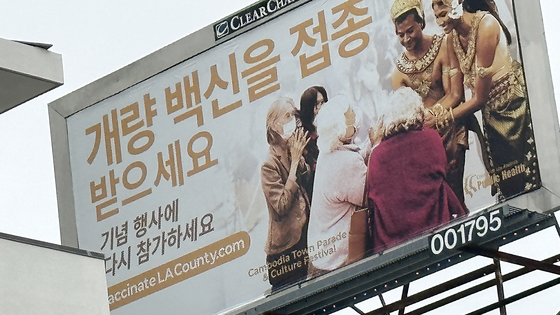 Awkward expressions in Korean-language advertisements targeting Korean-Americans in the United States have gone viral.
The public points out the urgency to improve awareness of the correct use of the Korean language in mainstream social institutions and companies with nearly 2 million Korean population in the country.
First, the Korean-language advertisement of Lexus feels foreign with its awkward usage of the language.
The text reads, "A projection of you, the new Lexus will make you admire it even before you drive it. With something like a new touchscreen, four inches closer to your reach…" and "Don't lose your edge" and "You're fit for the future."
When these texts are translated directly in Korean, they sounds awkward and foreign.
This Korean-language ad from the California Lottery is also difficult to understand.
The awkward phrases in Korean include texts like, 'Should I play Scratchers? Sign to point yes,' 'Folding chopstick wrappers is as much fun as playing. You never know what the end result will be, and you can have fun in the process' and 'Keep tapping.'
McDonald's introduces its menu with the tagline "Bacon + Ranch Conversations."
The United Methodist Church (UMC) is supporting youth rehabilitation programs with an ad that says, "Did you know that your Human Relationships Day gift helps at-risk youth offenders?"
The Department of Health and Human Services' (HHS) Covid-19 vaccine ad is equally awkward. "Refresh your Covid immunity," the agency says, while recommending a booster shot.
"With the growing Korean-American population, I'm seeing a lot of Korean-language ads in mainstream society these days, and there are so many awkward phrases," said Jinseon Yeo, 41, of Norwalk, N.J. "Some of them even make me cringe because they feel like they're just using a translator."
There are also concerns that awkward expressions, misspellings, ungrammatical explanations, and odd spacing in Korean can be a serious problem when used in official documents.
In fact, in 2020, Korean language materials distributed by the California Election Bureau caused confusion among Korean American voters due to sloppy translations.
This issue is especially problematic in California, since it is such a multiethnic state. In some cases, translation companies have lost contracts from government agencies due to serious mistranslations.
In January, Accent a Language, a California-based translation and interpretation company, issued an apology statement after they mistranslated Inupiaq, the language spoken by Alaska Natives, for the Federal Emergency Management Agency (FEMA). The controversy grew to include accusations of minority discrimination against the federal government and calls for hearings into the translation contractor selection process.
The company's translated applications for recovery assistance included statements such as "Tomorrow I will go hunting early. I won't be able to bring anything back," and "My husband is a polar bear and he's skinny." This made it difficult for Alaskans affected by the storm to apply for federal relief funds because of the mistranslated documents.
"Issues such as translation errors and awkward language can be interpreted as a sign that American society still overlooks the importance of minorities," said UCLA sociology researcher Heonsung Yoo. "Mainstream companies and organizations should be careful not to make Koreans and other Asians feel linguistically alien, even if it means spending more money."
BY JANG YEOL [support@koreadaily.com]