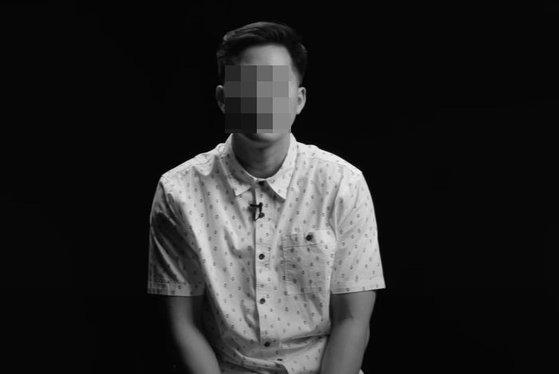 A Korean-American man who was released from prison after serving a prison sentence for murder in the U.S. is on the verge of being deported to Korea. He is appealing for "help" while petitioning for amnesty.
Justin Chung (33) was convicted of murder at the age of 16 and missed the opportunity to apply for his green card while serving his time in prison, according to a Los Angeles Times report on the 19th (local time). He is now released from prison on parole, but is on the verge of being deported to South Korea. Chung moved to the United States with his parents when he was two years old.
Chung, who recently released his story on podcast broadcasts, YouTube, and TikTok, confessed, "Since I was young, my parents were busy with work, so I had a lot of time to myself." As a result, he recalls that he had a made a bad call, and when he was in high school, he joined the Korean gang called "Han Kook Boys" in Rancho Cucamonga, California.
In August 2006, he attended a party near Los Angeles with his gangmates and got into a fight with another Korean gang who thought the Han Kook Boys were members of a Chinese gang, the Wah Ching. He had a gang fight with five people, and Chung opened fire and one man was shot in the head. The victim died from a gunshot wound to the head.
Later in the investigation, it turned out that the victim was not even a gang member. He was a Taiwanese-American who came to the U.S. at the age of eight and was an ordinary high school student who enjoyed basketball. The victim was on his way home after taking a certified real estate agent qualification test on the day of the incident.
The victim's bereaved family sold their house and left the neighborhood for fear of retaliation from the gang that Chung was in. Chung's gang is now disbanded and some members were deported to Korea. And in October of the following year, the Pomona Court in California sentenced Chung to 82 years in prison for first-degree murder.
However, Chung's sentence was commuted to 15 years in prison by the governor of California, citing his commitment to rehabilitating himself. Chung is said to have served as a barber in the prison, grooming the inmates' hair, and studying the Bible.
After serving about 14 years in prison, Chung was released from prison in June 2020 after receiving a parole order from the court. However, Chung, who missed the time to apply for a green card in the U.S. due to his long imprisonment, was soon deported and transferred to the U.S. Immigration Department.
Then, when faced with the spread of COVID-19, the immigration office released Chung on the condition that he attach an ankle monitor and regularly report to immigration. Currently, he works for the Onesimo Mission Church in Buena Park, California, and is appealing for a deportation pardon.
Chung said, "I'm truly remorseful. I am truly sorry for what I've done. I wish I can definitely go back and just take back what I've done. But I want to fight against the stigma of Asian-Americans who are out of prison."
He then said, "I know that I don't deserve to be pardoned, but if I am pardoned, I will live as honestly as possible and repay the local community."
He has filed a petition seeking amnesty. The petition said, "I want to stay in California with my family. The United States is my country." Currently, about 5,700 people have agreed to the petition.
The bereaved family of the victim is protesting. The bereaved family said, "Chung's deportation will be nothing compared to what we have experienced," adding, "If you are really sorry, just go to Korea," she said. "It's part of what God has given you."
BY HA SUYOUNG [ha.suyoung@joongang.co.kr]