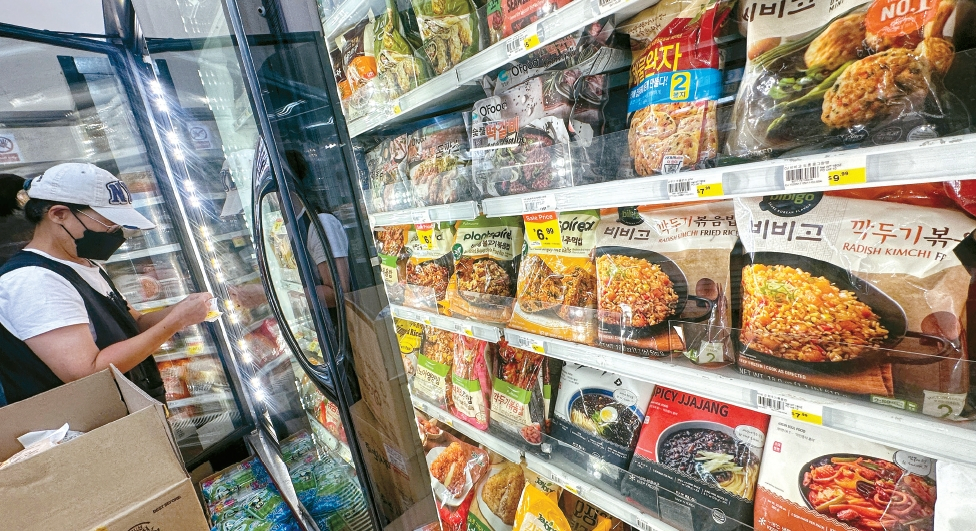 Frozen rice has recently emerged as one of the trendiest K-foods in the United States, leading a food craze.
Sales of frozen rice have been surging in America as the first generation of Korean immigrants adapted the fried rice and rice balls they used to eat with leftover ingredients in their refrigerators to suit the tastes of second-generation Koreans and other ethnic groups.
In particular, the addition of Korean flavors such as Korean barbecue sauce, kimchi, and garlic to the most popular fried rice flavors, such as beef, chicken, and shrimp, has significantly increased its popularity among non-Koreans.
Reflecting the popularity of Korean fried rice, LA Korean supermarkets have become a battleground for frozen rice. Pulmuwon, CJ Bibigo, Ottogi, Jayone Foods, and Veggie Garden are all competing.
CJ Bibigo's frozen fried rice products sold in Korean markets include beef fried rice, kimchi cheese fried rice, shrimp fried rice, and cubed radish kimchi fried rice, ranging from $6.49 to $8.99. Produced at the Schwan's Vermont plant, the Korean BBQ flavored chicken, kimchi vegetable, and garlic flavored shrimp fried rice are available at major retailers such as Walmart, Kroger, and Target. The new frozen bulgogi rice balls and Plantable Bibimbap Rice Ball, which cost $10.99, are more expensive than fried rice but have been well received.
According to CJ CheilJedang, sales of CJ Bibigo frozen rice products produced and sold in the U.S. exceeded $76 million (100 billion won) this year and are expected to reach more than $99 million (130 billion won) by the end of the year. Sales have tripled in four years since the company acquired Schwan's in 2019 and secured a nationwide cold chain distribution system.
Pulmuwon's fried rice includes the recently popular shrimp fried rice and cubed radish kimchi fried rice, while Ottogi has introduced two home favorites, kimchi fried rice and egg fried rice. Jayone Foods' soy sauce butter cheese, kimchi cheese, and tuna mayo rice balls are popular among young people and other ethnic groups.
"Korean food brands have developed frozen rice to suit the tastes of American consumers, and the recipes are simple, so they are popular among other ethnicities," said a manager of Zion Market in Los Angeles, adding, "recently, vegetarian frozen rice has been selling well."
The leader in plant-based frozen rice is Pulmuwon, which launched its plant-based HMR business in full scale last year, introducing plant-based frozen fried rice and rice balls that can be enjoyed as a main meal. The alternative meat used in the plant-based fried rice is soybean-derived 'Textured Vegetable Protein' (TVP), which was researched and developed by Pulmuwon's technology center to achieve a meat-like taste and texture.
Plant-Based Spicy Pork Style Fried Rice is a Pulmuwon product that contains a special alternative meat marinated in a spicy marinade and then stir-fried on a teppanyaki griddle for a flavor similar to restaurant-style pork.
Plant-based Bulgogi Style Fried Rice is made with plenty of chewy plant-based alternative meat and fried on an iron plate with seven different vegetables for great flavor. Plant-based bulgogi and kimchi cheese rice balls are also on the rise. Veggie Garden's savory bulgogi fried rice balls and spicy kimchi fried rice balls are made with plant-based meat alternatives for a more textured and juicy flavor.
"As consumer interest in frozen rice has increased, the market has also grown, and sales of frozen rice products have increased by 120% compared to last year," said Suk W. Kim, head of marketing at Pulmuwon USA. "We will help expand the rice culture in the mainstream market like Trader Joe's frozen kimbap."
BY EUNYOUNG LEE, JUNHAN PARK    [lee.eunyoung6@koreadaily.com]