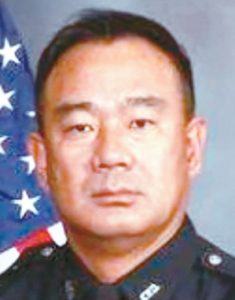 A Korean ex-police officer put on trial for shooting and killing a suspected robber during an arrest operation requested to move the case to federal court.
The Associated Press reported on the 23rd that Sung Kim (pictured), a former police officer at the Atlanta Police Department, submitted an application for removal jurisdiction from the state court to the federal court.
Lawyer Don Samuel, who defended Kim, said, "When the defendant shot the suspect, he was deployed to a TF team formed by the Federal Bureau of Investigation (FBI)," adding, "The defendant participated in the arrest operation under federal law."
Kim opened fire on January 22, 2019 while conducting an arrest operation for suspected 21-year-old robber Jimmy Atchison in the Atlanta area. At that time, Atchison was hiding in a closet unarmed and died at the scene after being shot by Kim.
Due to this incident, Atchison's bereaved family staged a weekly protest to the city government and others to indict Kim. Eventually, in December last year, Fulton County grand jury indicted Kim on charges of felony murder and involuntary manslaughter.
Meanwhile, Kim, who served as a police officer for 26 years, resigned from the police post immediately after the incident.
Reporter Jang Yeol.yeol@koreadaily.com