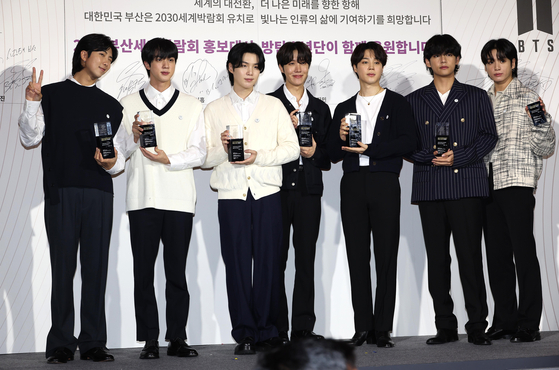 Defense Minister Lee Jong-sup on Tuesday stated that it is "desirable that members of BTS carry out their mandatory military service."
Lee's statement was in response to a question by Democratic Party congressman Yoon Hu-duk during the National Defense Committee's interpellation session, asking whether or not the defense minister supports the recently proposed bill to amend the Military Service Act which would exempt outstanding pop culture artists like BTS from Korea's mandatory military service.
The bill was proposed last month by Democratic Party lawmaker Kim Young-bae. If passed in Congress, it will allow pop culture artists who have received the order of merits or medals in culture or sports to be categorized under "Art and Sports Personnel" and allow them to serve the country through a 34-month alternative service instead of the two-year mandatory military service. In 2018, BTS received the Order of Cultural Merit for promoting Hallyu (Korean wave) worldwide.
Though Lee showed his disinclination toward exempting the BTS members from military service, he still said that he would "respect the revised law if it does pass in Congress."
Jin, the oldest member of the boy band, faces enlistment by December. He turns 30 in December.
Under the current Military Service Act, prominent figures in arts and sports such as Olympic and Asian Games medalists and globally recognized, award-wining classical musicians can be categorized as "Art and Sports Personnel" and become legally exempt from their military duties. However, the law does not include pop culture figures.
The issue of K-pop megaband BTS's mandatory military service has been discussed fervently by the public and politicians with numerous polls being carried out on whether or not the boy band members should be exempt from the mandatory service.
In Korea, all able-bodied young men are required to serve around two years in the military.
BY LEE JIAN [lee.jian@joongang.co.kr]