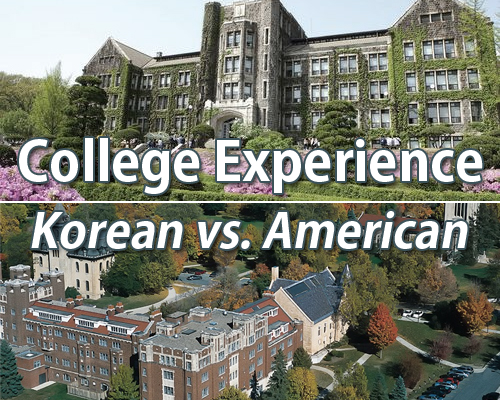 There is a plethora of differences between how students in Korea and students in the U.S. get admitted to universities – everything from the prevalence of private tutoring, emphasis on mastering foreign languages, and long hours spent at school -.
Putting these differences aside, I want to discuss the cultural differences between the college experience in Korean universities versus that of American universities with respect to students' MAJORS, STUDENT ORGANIZATIONS, and FASHION.
*Disclaimer: The statements below stem from my personal experiences, encounters, and research, thus may contain bias and generalizations*
MAJOR
Korean Universities Students in Korea choose their majors when they apply for admission. New students become close with other students in their major because their classes overlap and their social activities revolve around their major. This close-knit sense of community based on students' major is formulated and reinforced by the fact that most students stick with their original major because it is extremely challenging and rare to change majors afterwards. Thus, new college students in Korea immediately form a community centered around their major and this marks a defining characteristic of their college experience.
American Universities Students in the U.S. also have the option of choosing their majors when applying for admission. However, on average, a college student in the U.S. changes his/her major three times. Many students come in during their freshman year as undeclared, explore options, and change their mind throughout their college career. Friend groups are instead formed through dorm life, attendance to social events, and participation in student organizations or sports.

STUDENT ORGANIZATIONS
KMT (Membership Training) or OT (Orientation) refer to an overnight trip hosted by each student organization to welcome new students. MTs are almost a trademark of the college social scene because they play a memorable part of the college experience. Activities include heavy drinking, but also creative games, funny stories, and unforgettable bonding experience. You can think of them as the Korean equivalent of a retreat for member initiation.
A The concept of orientation takes on a slightly different connotation in an American university setting. New students are often introduced to a new club through information sessions, then go through an application process (sometimes followed by an interview selection process) to join. Rushing for Greek life, which resembles many of the experiences associated with student organizations in Korean universities, is an exception to this rule.

DRESS CODE/ FASHION
K Most middle and high schools in Korea, both private and public ones, require its students to wear uniforms. Thus, the freedom to wear the clothing, hair, and makeup of their choice is an iconic and important part of the college experience. There is a combination of anxiety but also excitement surrounding this new freedom, which might explain why college students in Korea might appear to care more about their physical appearance than a typical college student in America.
A There are far fewer number of middle and high schools that require uniforms in the U.S. compared to those in Korea. Thus, American students have enjoyed the freedom to dress the way they want for much longer and it is not a huge surprise that they can continue to do so in college. This might explain why jeans or leggings, paired with a college sweatshirt is a classic dress code of an American college student.
By Hajin Lily Yi