Korean cultural festivals are in full swing across the United States. As the anticipation builds for the 50th LA Korean Festival next month, 10 other Korean festivals are unfolding throughout the country to usher in the fall season.
The 2023 K-Festival kicked off in Greenville, South Carolina, on September 9. Now in its third year, this festival is a testament to the town's intimate Korean community's dedication.
"We have merely 1,000 Koreans in Greenville," said Sook-young Yoon, director of the Korea Center of Greenville. "Our community might be smaller than others, but our festivals carry a profound sense of purpose."
This year's theme was a hanbok fashion show and a traditional Korean wedding. Greenville residents who were selected as models walked the stage in hanbok, and traditional Korean wedding experts traveled from Korea to explain the ceremony.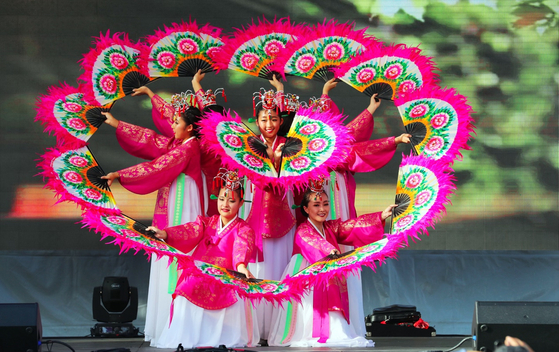 In New York, the Korean Cultural Center (KCCNY) celebrated the MAUM Market and Hangawi Korean Festival on September 9 and 10, just before the Korean Thanksgiving. The MAUM Market, a pop-up, showcased artifacts by Korean artists. Meanwhile, the Hangawi Festival introduced attendees to Korean crafts, culinary delights, and timeless games.
Come September 16-17, the 45th Korean Full Moon Festival will grace the Arundel Mills Mall in Hanover, Maryland. Cultural booths will immerse visitors in Korean heritage, with interactive activities like crafting turtle boats, pinwheels, and Taegeuk patterns. Adding to the festivities will be a talent contest for youths aged 15-21.
San Francisco is prepping for its 5th Annual Bay Area Chuseok Festival on September 30. Expect traditional Chuseok games, calligraphy sessions, and dance recitals. "Last year, attendees enjoyed 'tug-of-war' and 'Red light, green light' from the Squid Game, making it a crowd favorite," recalled Kate Nam, the Korean Center's director. "We aim to reconnect Koreans with their roots and introduce our rich culture to a diverse audience. We hope attendees cherish their experience."
From October 11-14, the Anaheim Convention Center will house the 21st 2023 World Korean Business Convention. Being hosted outside Korea for the first time, this convention will spotlight over 500 Korean enterprises alongside 300 international companies.
Meanwhile, Garden Grove Park will host the 39th Arirang Festival from October 12-15. Organized by the Korean American Festival Foundation of OC, this edition promises cultural synergy between Korean and Vietnamese communities.
Sung-ae Han, secretary of the Korean American Festival Foundation of OC, elaborated, "Attendees can experience both Korean hanbok and Vietnamese attire. The event will also feature diverse culinary offerings from Korea, Vietnam, and beyond."
Marking its 50th year, the LA Korean Festival is slated for October 12-15 at Seoul International Park in LA Koreatown. Themed "Great Challenges for the Next 50 Years," this grand event will host myriad stalls vending Korean products, delicacies, and immersive experiences. With an additional Korean Agriculture and Fisheries Expo, the festival anticipates over 400,000 attendees across its four-day run.
BY YEJIN KIM    [kim.yejin3@koreadaily.com]