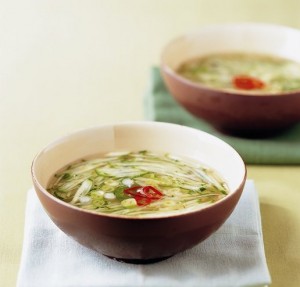 Summer is just around the corner and temperatures are rising. "Oi naengguk" (also known as cold cucumber soup) is the perfect vegetarian dish to cool off from the heat.
Cold cucumber soup is quick and easy because you literally do not need to cook anything. Here is what you need to know about this light, refreshing and healthy Korean dish:
When do you eat cold cucumber soup?
Oi naengguk is for hot days, primarily because it cools you down from the heat. It can be eaten as a side dish, along with rice or noodles.
How do you make cold cucumber soup?
First, cut the cucumber into match sticks and keep with other vegetables of your choice. Create a separate soup base from water, vinegar, soy sauce, and seasoning. Make these ahead of time and refrigerate.
When ready to serve, combine these two in a bowl and add several ice cubes.
Any variations?
I like to add thinly chopped chili pepper and green onion to add a spicy kick to the mix. You could also add sesame seeds for a nutty crunch.
What are the health benefits?
Cold cucumber soup keeps you hydrated, which is very important during the summer. Cucumbers in general flushes out the toxins in your body and provides essential vitamins.
These impressive health benefits explain why this a popular summer dish for vegetarians and non-vegetarians alike!
By Hajin Lily Yi