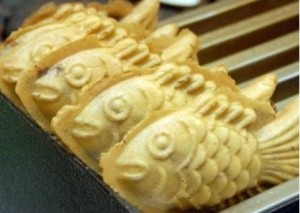 Similar to hotteok pancakes, bung eo ppang is a popular street food and an all-time-favorite winter dessert in Korea.
WHAT IS BUNG EO PPANG? Bung eo ppang has sweet red beans as a classic filling on the inside and soft bread-like layer of flour on the outside.
Bung eo ppang's the crispy texture and the hot filling are often associated with a fond memory of a bitter cold winter day in Korea.
The name "bung eo bbang (붕어빵)"comes from a combination of two words: "Carassius," a common fish in Korea and "bread." Thus, these two words point to the fish-shaped mold of the waffle-like dessert.
HOW IS IT MADE? You first pour batter into an appliance similar to a waffle iron. Then you add sweet red bean paste and roast it before serving.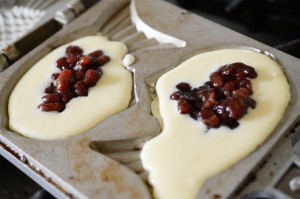 WHEN DO YOU EAT IT? Bung eo ppang is an inseparable companion that will help you combat freezing, bitter winter temperature in Korea. For just about $1 US, you can get a bag of three bung eo ppang; it's perfect for sharing! You will not miss the bung eo ppang stands on a cold day in Korea, because they are so common.
Careful not to burn your tongue with the red beans on the inside, though. They are very hot!
ARE THERE ANY VAIRATIONS TO BUNG EO PPANG? If bung eo ppang on the street was meant to be eaten on cold days, then there is an ice cream version to be eaten on hot summer days. This summer version of the classic desert is also popular and easily available in convenience stores or Korean markets.
By Hajin Lily Yi