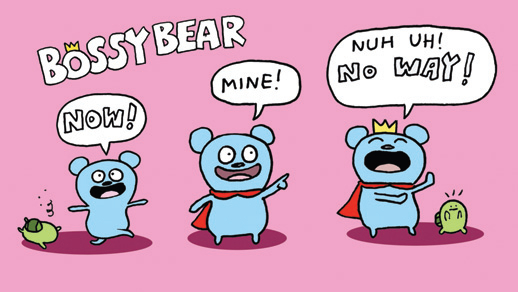 A new animation by a Korean-American couple who created the global character animation "Ugly Dolls" will be broadcasted in the U.S. through mainstream media.
Nickelodeon announced that David Horvath and Kim Sun-min's "Bossy Bear" will be aired everyday at 11 a.m. from March 6.
"Bossy Bear" is based on Horvath's popular book series inspired by Korean and American pop culture. The two main characters are an overly passionate and outgoing teddy bear named "Bossy" and a thoughtful and introverted turtle named "Turtle", who are best friends. Season 1 is about an adventure of two friends that takes place in Pleasantberg, a town inspired by a blend of U.S. and Korean cultures.
Seeing how the first episode already portrays a significant amount of K-pop culture as Bossy and Turtle struggle to relieve Bossy's older sister's anxiety before meeting a K-pop band, the animation is expected to involve multiple elements of K-pop culture.
Nickelodeon also said it will air "Bossy Bear" around the world through its youth channel "Nick Jr." later this year.
Bossy Bear was voiced by Jaden Ham, a youth actor who starred in "Star Wars: Jedi Temple Challenge," and Jaba Keh, who starred in Sesame Street. In addition, Korean actor Cloud will be acting the voice of the main character's mother. In addition, Director Chil Kong, who directed various plays at the East West Theater and the Asian theater company, is also participating as a consulting producer.
Kim and Horvath met at Parsons Design School, got married, and became internationally renown for their animated character series called "Ugly Dolls", which was inspired by their drawings from love letters they exchanged during their long-distance relationship when Kim returned to Korea after their college graduation. Since then, "Ugly Doll" has also been produced and screened as a movie.
BY NICOLE CHANG [Chang.nicole@koreadaily.com]