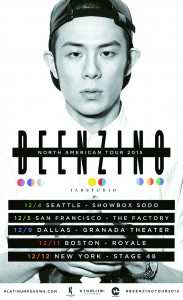 Tour Schedules
– Dec. 4 – Seattle, WA – ShowboxSodo
– Dec. 5 – San Francisco, CA – The Factory
– Dec. 9 – Dallas, TX – Granada Theater
– Dec. 11 – Boston, MA – Royale
– Dec. 12 – New York, NY – Stage 482
Description: Beenzino is bringing his brand of stylized hip-hop to America for a five-date tour in Seattle, San Francisco, Dallas, Boston and New York this December. The 28-year-old recently visited North America when he played shows in Canada alongside his Illionaire Records labelmates Dok2 and The Quiett, two other go-to collaborators for Korean pop acts.Beenzino's five-date trek is the latest in a wave of Korean rap acts coming stateside. Epik High held an extensive 11-date tour of North America in the summer while artists on the Amoeba Culture roster (including Dynamic Duo, Zion.T and Crush) came for two shows at the top of 2015.Tickets are on sale for all dates now with prices ranging $55 to limited VIP packages costing around $185. Tickets are available through Platinum K Shows.
2. Korean traditional opera, "Salome," announces an extension of its playing duration.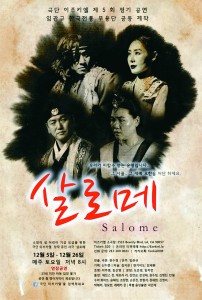 Performance Schedules :
– Dec. 5,12, 19, 26 at 8:00PM
Location: 2515 Beverly Blvd, Los Angeles CA 90057
Description:The performance is focused on the story of Salome who took Johan the Baptist's life. It is produced for even non-Christians to be able to enjoy it. The performance is unique because it includes fusion-opera aspect while showing a stage set where represents Korean traditional backgrounds. Also, English subtitles are provided simultaneously during the performance for English speakers. The profits generated out of the concert are donated to a non-profit organization called "The Spring of Hope."
Contact: 213-368-9828
3. The 28th Concert of Traditional Korean Music shares the beauty of the sound with authentic Korean instruments.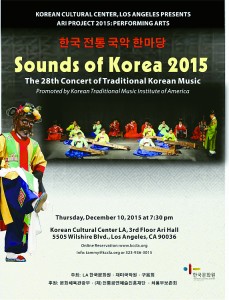 When: December 10, 2015 at 7:30PM
Where: Korean Cultural Center, Los Angeles 3rd Fl. Ari Hall
Description:Korean Cultural Center, Los Angeles holds one of its traditional events entitled "Sounds of Korea 2015" also promoted by Korean Traditional Music Institute of America. The event is highly recommended for those who are interested in experiencing the most authentic sounds that traditional Korean instruments can exclusively generate.The performers not only play traditional Korean instruments, but also dress up traditional clothes where could be seen in historical Korean TV shows or movies. Online reservation is required on www.kccla.org/english/programs_reservation.asp.
Contact: 323-936-3015
By Justin Yoon