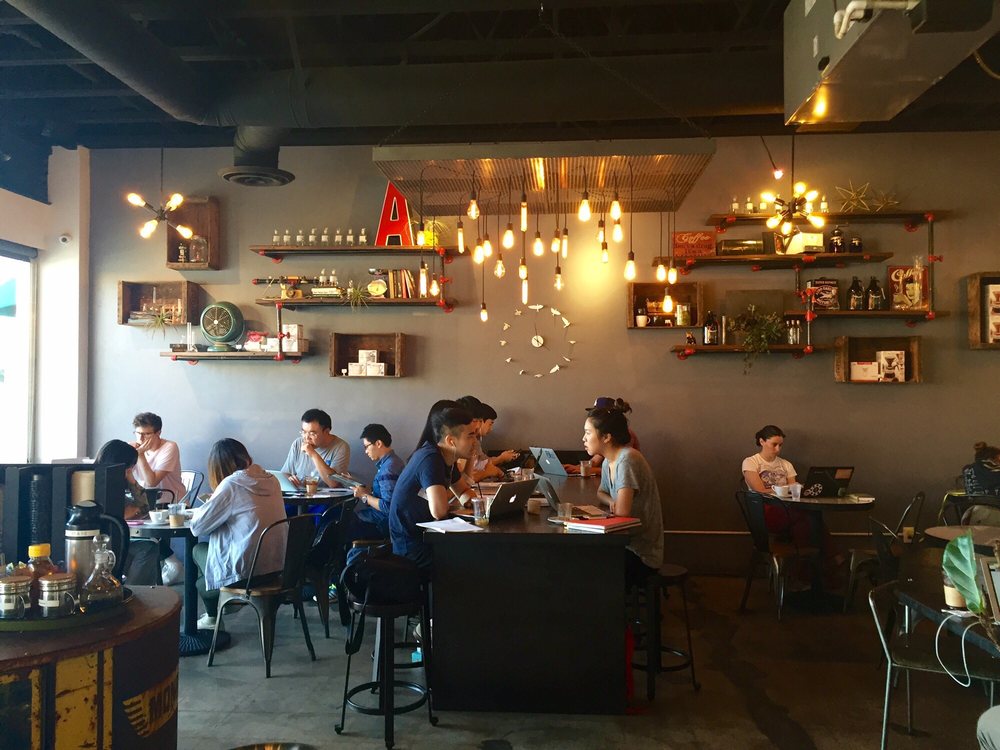 When Starbucks first took the world by storm they did so on the premise that they weren't just selling coffee drinks, but an experience as well. Now that Starbucks boasts over two decades of dominance in the coffee chain business since its inception in the 1990s, American consumers have become accustomed to the standardization of particularisms that the Starbucks experience offers.
The experience that made Starbucks hugely successful in the States was its ability and willingness to fulfill the individual needs of consumers; whether it was decaffeinated, caffeinated, with whole milk or soy, or with a generous pump of caramel flavored syrup, customers were able to have it their way.
Korean coffee consumers flocked to Starbucks for the experience as well, claims Sang-me Bak, an Associate Professor of Cultural Anthropology at Hankuk University in her paper "From Strange Bitter Concoction to Romantic Necessity" (2005). The difference here is that they don't come for the experience of drinking customized coffee drinks, but for the environment and atmosphere that being in Starbucks presents.
It's origins in U.S. made Starbucks not only a place where Koreans could experience espresso-based concoctions, but also experience western middle class modernity. This characteristic is coupled with an interesting social aspect that has culminated in a distinctive style of Korean cafes.
This social aspect, according Professor Bak, is that Korean coffee shops are geared towards groups. This is because many customers come in as couples or groups and expect to be able to comfortably socialize with the company they came in with.
This differs from the typical expected behavior in American style café where customers come in individually and engage in informal socialization with other customers. Korean cafes tend to have larger tables that can accommodate groups and even physical barriers that can help to designate a separation of space for the different groups.
The middle class experience and the design of Korean cafes can be experienced here in Los Angeles where the majority of the cafes in Koreatown are decorative, spacious, and a tad bit more expensive than other coffee shops.
But coughing up a few extra dollars might be worth it, especially with these chilly winter nights. Here are my picks to grab a coffee (or tea) and chill in Koreatown
Klat
Modern and clean Klat specializes in drip and nitrogen brewed coffee.
621 S Western Ave #101, Los Angeles, CA 90005
Hwa Sun Ji Tea & Coffee
Tradition is the centerpiece of Hwa Sun Ji café with lush wood tables and chairs along with Hangul themed accents. Their menu boasts an impressive number of medicinal and traditional drinks with an explanation of potential health benefits.
3960 Wilshire Blvd Ste 100, Los Angeles, CA 90010
Yellow House
Yellow House is the all-in-one place for your café needs – coffee, large tables, a beautiful outdoor patio, and a robust food menu.
234 S Oxford Ave, Los Angeles, CA 90004
Café Mak
Café Mak is probably the place you will find yourself studying or doing work in with an interior design like a library with real and faux books, hardwood tables, and plush seating.
612 Shatto Pl, Los Angeles, CA 90005
By Olempia Castillo