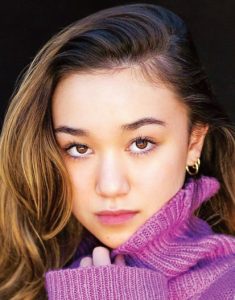 A Korean-American high school student in Canada has landed the lead role in a teen drama series that is set to premiere on Netflix this fall.
Ava Ro, also known as Soo-mi Ro(15), was cast as Erin in "Erin & Aaron" after a highly competitive 2,000-to-1 audition. The series will be produced by Nickelodeon and aired on Netflix.
"Erin & Aaron" is a comedy-drama series about siblings who become step-siblings when their parents remarry. It is currently airing on Nickelodeon in the United States.
Ro lives in the town of Caledonia, near Toronto. She started studying dance at a professional academy when she was three years old. She also learned music and received vocal training, which prepared her for her career as an actor and singer.
Before filming the drama, Ro starred in "Home Sweet Rome" in March, and in 2018, she starred in the 52-episode drama series "Big Top Academy."
Her father's name is Yong-chan Ro, and her mother is Dutch-Canadian. Her Korean grandparents immigrated to Toronto in 1971.