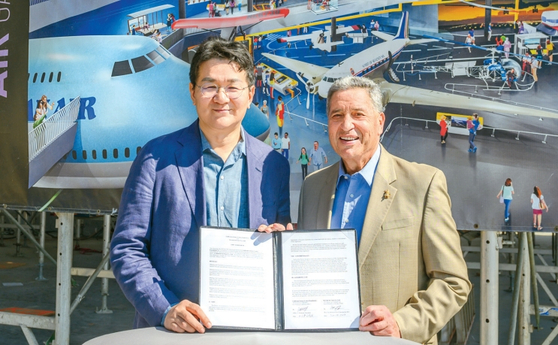 Korean Air is set to have a dedicated aviation gallery in a new air and space museum in Los Angeles.
On September 20, Korean Air announced a generous donation of $25 million to the California Science Center Foundation (CSCF).
This donation aims to support the CSCF's project of constructing The Samuel Oschin Air and Space Center (SOASC), an interactive aerospace museum located in Los Angeles' Exposition Park.
Scheduled to open in 2025, the SOASC will sprawl across 200,000 square feet and feature an aviation gallery, an astronomy exhibit, and a space shuttle display.
Owing to Korean Air's significant contribution, the aviation gallery will be named the "Korean Air Aviation Gallery." This section will showcase a retired Korean Air Boeing 747, along with over 20 other aircraft both on the ground and in-flight. Furthermore, an array of hands-on programs will be available, enabling visitors to grasp the scientific concepts that underlie aircraft operations.
Cho Won-tae, Chairman of Hanjin Group, expressed his thoughts, stating, "We are pleased to have the opportunity to contribute to the Los Angeles community, with which we share a longstanding bond, given it was our inaugural destination in the United States. We aspire for the Korean Air Aviation Gallery to ignite curiosity in the youth, encouraging them to delve deeper into the realm of aviation and its societal significance."
Jeffrey Rudolph, the President of CSCF, commented on the donation, emphasizing, "Korean Air's $25 million gift stands unparalleled among corporate contributions. We are profoundly appreciative of their magnanimity in fostering the establishment of a premier air and space museum." He added, "It is an honor to christen the aviation section of SOASC as the Korean Air Aviation Gallery."
BY NAKI PARK    [park.naki@koreadaily.com]