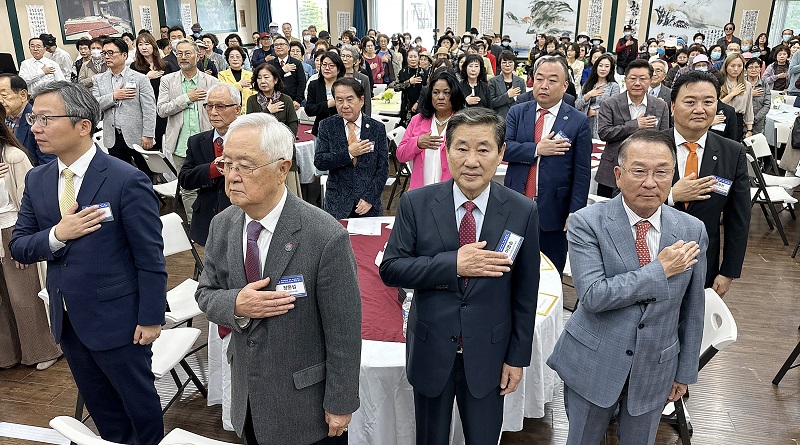 The Korea Town Senior and Community Center (KSCC), which is a prominent cultural and educational facility for seniors in Los Angeles, commemorated its 10th anniversary on May 11, in conjunction with a Mother's Day celebration. The second-floor auditorium was filled with around 250 individuals, including Consul General Youngwan Kim, Korean American Federation of Los Angeles President James An, LA City District 10 Councilwoman Heather Hutt, Chief of Olympic Police Station Aaron Ponce, leaders of key organizations, as well as senior members and volunteers.
The event was sponsored by the Korean Investors and Traders Association of Southern California (KITA), Seoul Medical Group, Humana, and other organizations.
A special appearance was made by Consul General Kurihara Yasuko from the Consulate General of Japan in L.A., who congratulated the senior center on its 10th anniversary.
"It's almost the first time I've been invited to a Korean American community event like this," she told the Korea Daily, "and I'm glad that Japan-Korea relations have been improving recently. I would like to see these exchanges become more active."
District 10 Councilmember Heather Hutt, who was in attendance, said, "I'm here to celebrate the realization of a dream for the Korean American community."
The two-hour ceremony, which began at 11 a.m., was enriched with a video showcasing the 10-year journey of the senior center, as well as various performances by senior members and instructors, including traditional percussion and poetry recitation.
The event also featured the presentation of certificates of appreciation to volunteers and workers who have contributed to the development of the senior center.
"The senior center has developed with the leadership of the presidents in the initial stage and the support of the Korean community," said Moon Seop Chung, chairman of the KSCC. "We are grateful to everyone who has supported the senior center over the past 10 years."
Kee Whan Ha, the first chairman of the senior center, said, "It was very difficult to build. We lost money during the construction process, but I am personally very happy that it was built so well."
Meanwhile, the senior center, which opened in Koreatown on April 25, 2013, had only 50 members at the time of its opening, but has since become a favorite hangout for Korean seniors and a representative community facility in Koreatown, with 1,000 weekly visitors and 4,500 monthly visitors.
The senior center has been evaluated as a successful model for non-profit organizations. In 2021, the center completely paid back the loan it borrowed for its construction, thanks to volunteers who worked hard without recompense for the past 10 years.
BY SUAH JANG  [support@koreadaily.com]