J.D. Power's 2016 Initial Quality Study shows that for the first time since 2006, non-premium brands turn out to make fewer problems than premium (luxury) brands do. The IQS (Initial Quality Study) surveyed 80,000 consumers, who purchased new 2016 models of 33 brands, and measured the number of problems and unfavorable characteristics reported during the first 90 days of ownership.
Kia, which has the lowest market price on average, was ranked as first in the list over other luxury cars including Porsche and Lexus. It is the first time in 27 years of history that a non-premium brand tops the list.
J.D. Power announced that "A lot of companies in the car industry are having headaches because of audio, entertainment, and navigation systems. Especially premium models tend to have more delicate systems. So non-premium brands succeeded in quality improvement and it was similar in most non-premium brands".
Let's see Kia as an example. Among the 100 new cars, Kia only had 83 problems in total. The average number of problems from all 33 brands was 105, but Kia had 6 fewer problems compared to 2015.
Furthermore, the study reported that U.S. domestic brands have fewer problems than other import brands as the first time since 2010. Especially Fiat Chrysler Automobiles, which often had severe problems, showed a great improvement in quality. Although Fiat ranked as second from the bottom of the list, the rankings of its sister companies, Chrysler, Dodge, Jeep, and Ram rose near the average. Chrysler and Jeep are the most improved brands in the 2016 survey.
Smart (216 problems per 100 cars), Fiat (174), Volvo (152), and Land Rover (132) were in the lowest rankings of the list.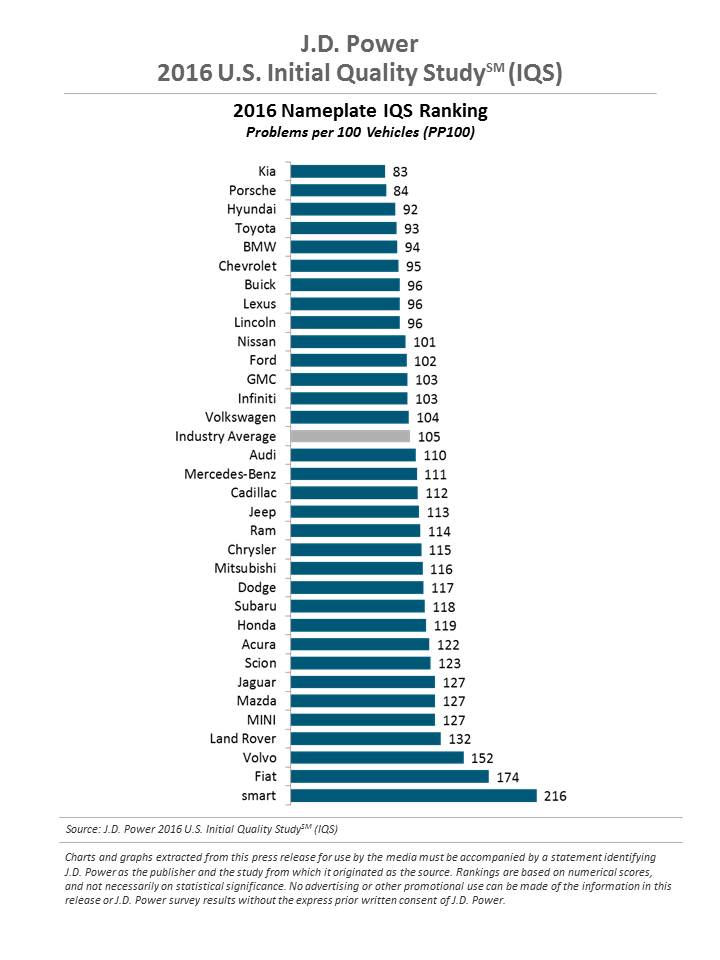 Original article available at http://autos.koreadaily.com/%EC%83%88%EC%B0%A8-%EC%82%AC%EA%B3%A0-%ED%92%88%EC%A7%88-%EB%AC%B8%EC%A0%9C%EB%A1%9C-%EC%A0%A4-%EA%B3%A8%EC%B9%98%EC%95%93%EB%8A%94-%EB%AA%A8%EB%8D%B8%EC%9D%80/
Translated by Audrey Joung