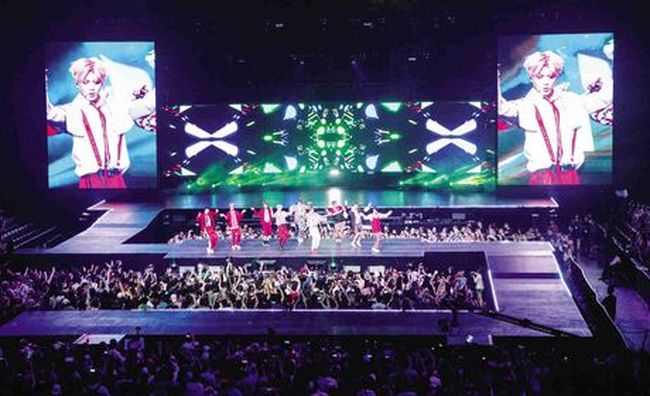 The sixth KCON, a short for Korean pop convention, is kicking off today as Los Angeles Koreatown is expecting a boost in the local economy.
The 2017 L.A. KCON, sponsored by CJ E&M and Mnet, will not only provide live performances of Korean artists, but also opportunities for visitors to taste Korean food as well as buying the country's imported goods. A crowd of approximately 60,000 is expected to attend the event.
It is likely that most of the outside visitors will pay a visit to Koreatown near Downtown L.A. On Saturday and Sunday, K-pop's flag ship idol groups Girl's Day and GOT7 are scheduled to perform at Staples Center. The tickets to the event have been sold out since two months ago.
"The visitors from out of state who purchased the tickets in advance have already made their reservations two to three months ago," said a hotel employee in L.A. Koreatown. "The younger people are attending KCON as a vacation as the venue is located near Hollywood and Santa Monica where you can enjoy many sight-seeing opportunities as well as good in Koreatown.
Aside from hotels, food businesses have also prepared to ride the wave of KCON. Wang Boonsik, Umai Savory Hot Dogs and Seoul Sausage are three of the 30 businesses that will participate in the event by setting up booths. Over Saturday and Sunday, the section with the food booths is expecting around 30,000 to 40,000 visitors.
"It's obviously a lot of hard work and the revenue generated is quite decent as well," said an owner of a business that has set up a booth at KCON in the last two years. "By engaging with non-Korean customers, it also provides us with an opportunities to come up with new ideas."
Koreatown is located only five minutes away from Staples Center and the restaurants there have been fielding phone calls from visitors who are making reservations for the weekend.
"We've already received about 100 reservations for various time slots between Friday and Sunday," a manager of a Korean barbecue restaurant said. "Some of them are simply visiting, but others are officials from entertainment companies and event coordinators. Those people are also looking for places to have meetings, so the foot traffic is expected to rise significantly."
Three to four businesses in Koreatown selling Korean music and K-pop posters are also expecting a large volume of visitors. Those stores have already prepared products featuring Girl's Day, GOT7, Cosmic Girls and Heize for KCON visitors. The cost of a CD ranges from $15 to $20, while a poster is going for $5 to $15.
Meanwhile, some Koreatown businesses have suggested that even the likes of Korean tour agencies, business organizations, and hotels could cooperate each other to provide packages for KCON in order to boost the number of tourists in the neighborhood.
Some have said that forming a consortium to bring in more visitors and providing opportunities for businesses to particulate could further grow the impact of KCON in Koreatown economy.
By Brian Choi