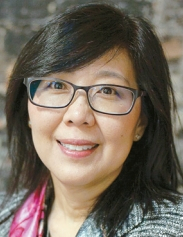 Karen Kim, who has served as the vice provost for research at the University of Chicago, has been appointed as the dean of Penn State College of Medicine, starting from September 1.
On May 31, Penn State announced that Kim will be the first woman to hold the position of dean at their medical school, as well as the first Korean-American woman to serve in such a role nationally.
Kim has gained recognition both within and outside the school for her research and activism concerning the social challenges posed by medical technology.
She has worked as the associate director of community outreach and engagement for the National Cancer Institute-designated University of Chicago Comprehensive Cancer Center, and she is also the founder and director of the Asian Health Equity at the University of Chicago.
She attended Carleton College in Minnesota, completed her master's in neurobiology/physiology at Northwestern University, and earned her doctorate from Loyola University Stritch School of Medicine with honors.
"Dr. Kim's exceptional service spanning over 25 years as a clinician, teacher, mentor, administrator, and community-minded leader and advocate for health equity make her a perfect fit for this role," said Justin Schwartz, Penn State's executive vice president and provost.
"During her discussions with the hiring committee, it became immediately clear that Dr. Kim's experience and vision will help advance Penn State College of Medicine's mission and increase community impact, serving all Pennsylvanians, with a particular focus on members of rural and minoritized communities statewide."
As the dean, Kim will represent more than 1,400 faculty members, 1,600 staff members, and 1,000 students in the School of Medicine, and she will oversee its affiliated programs. Currently, the medical school has more than 590 trainees and 140 fellows.
"Penn State has a remarkable reputation as a leader in interdisciplinary research, and I aim to continue building partnerships and contributing to collaborative successes," said Kim.
"I am thrilled to join my colleagues in the college and build upon their achievements, furthering Penn State's impact across Pennsylvania and beyond, particularly among underserved rural and underrepresented populations."
Kim's father, Tae Bum Kim, is a Chicago resident and one of the seven founders of the Korean American Association of Chicago. Her mother, Hong Sung Ok, was the first president of the Women's Association and served as the vice president of the Korean American Association.
Kim's brother, Kwang Woo Kim, is the president of Columbia College Chicago. He earned his undergraduate degree in philosophy from Yale University and his doctorate in music from Johns Hopkins. Prior to becoming the president in 2013, he taught at Arizona State University and Dickinson College.
BY INSEONG CHOI [support@koreadaily.com]