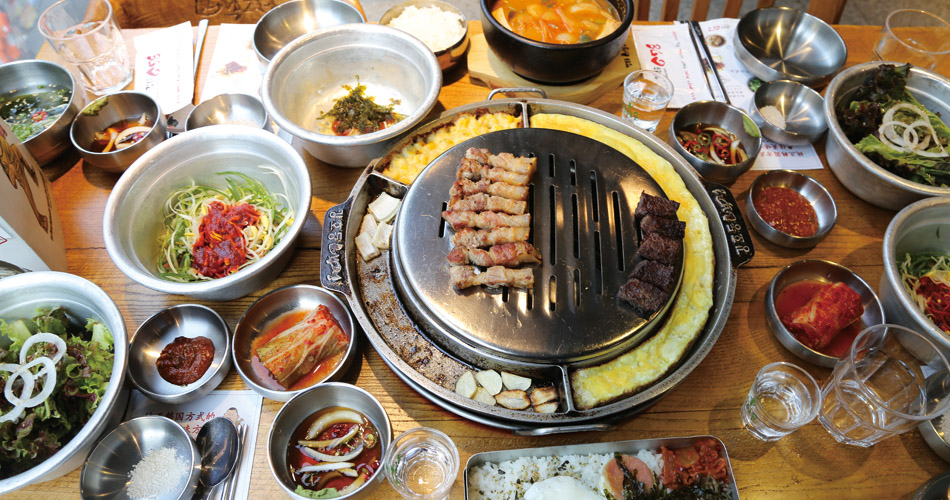 Kang Ho Dong Baekjeong is the hottest Korean BBQ restaurant in K-town which is always crowded even with a long waitlist all the time.
678 USA, Korean entertainer Kang Ho Dong's restaurant franchise, reveals that Kang Ho Dong Baekjeong is selected by LA Times as Jonathan Gold's Best restaurant 101 for 2 consecutive years. The restaurant passed the break-even point within a few months after opening.
The restaurant has a variety of meat items and the large space with 100 seats plus 20 special seats for group guests, which make the restaurant as the perfect place for family and friends.
Also side dishes such as vegetables with special sauces and seasonings add more fun when you enjoy barbecue, in addition to the egg cooked on the rim of the charcoal grill.
Kang Ho Dong Baekjeong's average monthly sales is close to $400,000. With 8 stores internationally, they hit $3 million sales every month.
South Korean celebrity Kang Ho Dong is a "Star King" of franchise business. Now he is engaged in the management of 678 Company, being a successful model for other celebrities. 678 is specialized in Korean BBQ restaurant business and the public figure Kang Ho Dong, who is known as an energetic food fighter and meat lover, is well suited for the brand. Kang Ho Dong is a perfect spokesperson of the brand.
If Kang were just a model for the brand (which is a common case when a celebrity collaborates with franchise business), 678 wouldn't have succeeded like now. 678 owns 5 franchise brands and it reached 30 billion (Korean Won) since the company's establishment in 2007.
678 owns: '678'- Korean beef and Jeju pork BBQ restaurant (14 stores), '678 jjim'- Galbi jjim and Hot stone pot bibimbap restaurant (6 stores), 'Kang Ho Dong Baekjeong'- Korean barbeque (62 stores), and recently added 'Kang Ho Dong Cheonha'- Tteokbokki (Korean-style spicy rice cake) and '678 Chicken'. Kang is the spokesperson of all brands and he holds a signing event when a new store opens.
Kang actively works for the 678 group because of his passions for food, in addition to his plans to restart his life by doing restaurant business.
"Kang has enthusiasm for Korean food and he wanted to start the "K-food wave" through restaurant business. He also has a vision to develop packaged food products to expand 678 as a major food business" said Kim Ki-gon, CEO of 678, who has continues his partnership with Kang since 2005.
Kang started to get involved in the business since last year. Before then, he was only an investor and model for 678. But last year, the company has changed its name from 'Kang Ho Dong 678' to '678' and received an investment of 4 million dollars from SeungSan which is a child company of the GS Group, which enabled them to expand their franchise business aggressively.
While the company's shares are equally divided among Kang Ho Dong, Kim Ki-gon and SeungSan, 678 clearly separates their roles. Currently they have store management, finance, PR and Marketing departments. The CEO of 678 group is in charge of managerial parts and SeungSan supports the finance and sales assistance. Kang's role is marketing and PR. Since they distinguish the roles individually, the whole system in company is well-designed. Due to its effective management structure, the company is not only concise about profit-sharing but also able to generate creative marketing ideas.
"This upcoming year, our goal is to open 500 stores in Korea and 20 stores overseas", a representative of 678 said. "We are expanding globally, beyond the U.S., to introduce and promote K-food. Our final goal is to become a global K-food corporate".
Original article by Korea Daily Chicago
Translated by Narae Lee