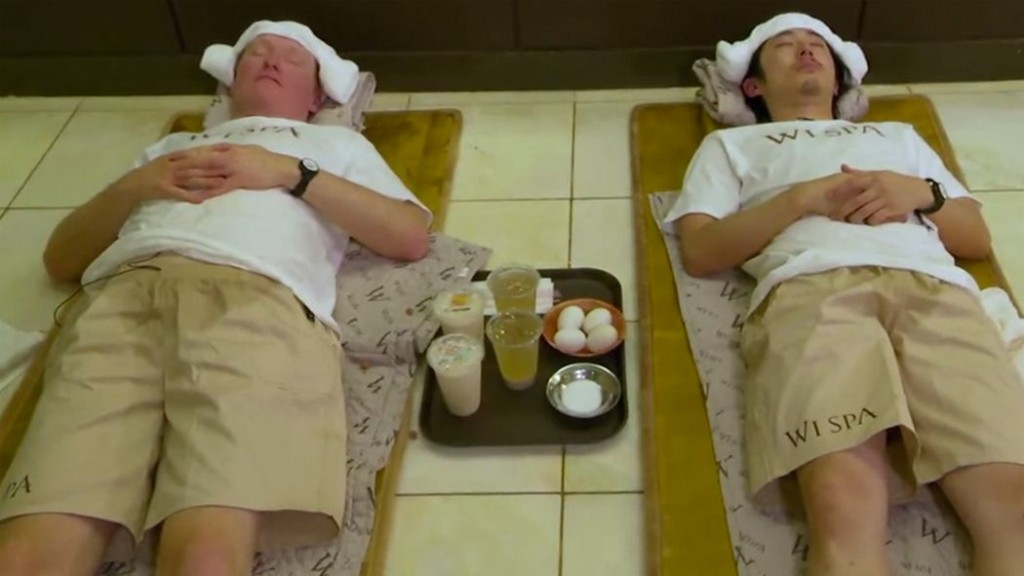 Looking for a way to unwind, relax, pamper yourself? Korean saunas, also known as jimjilbangs, are very prominent in Los Angeles' Koreatown. BroughtThey were made known to millions of Americans thanks to a video, by late-night talk-show host Conan O'Brien, which featured Steven Yeun (Glenn Rhee from  "The Walking Dead"). With a hilarious comedic approach, they showcased all the facilities and offerings within a Korean spa that may be new to many. Check out some recommended spas below in order to refresh your mind and body!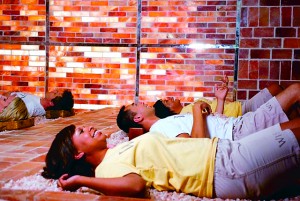 Wi Spa
Boasting high popularity, Wi Spa is easily the best known jimjilbang in Koreatown, bringing in a diverse crowd year-round. Featured on "Conan," this spa has seen a significant growth of interest in the last year. A self-proclaimed "urban sanctuary in the heart of L.A.," Wi Spa stands out for its grandeur. With separate areas for men, women, and children, this spa creates a comfortable experience in which one can unwind with one's friends or family. In addition to the separate areas with lockers, showers and hot baths, there is also a co-ed floor which has numerous types of rooms with saunas.
There is a clay room, which is full of small clay pellets in which you lie and release toxins (You can watch TV here!). There is a jade room, which allows you to soak in healthy minerals; a salt-stone sauna; and the infamous bulgama room. The last is extremely hot, so please take in plenty of fluids to avoid any trouble as you sweat everything out! Cooling down in the ice pool afterward is a nice way to end your experience. In addition to these rooms, there is a full gym, a manga library, a computer room, and great Korean food which can be enjoyed in the co-ed area. With its free valet service, and its 24-hour hours of operation, there is no excuse not to try this place!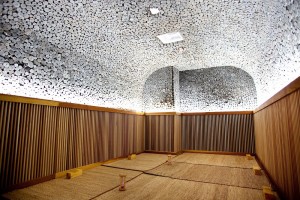 Crystal Spa
Located in the famous City Center Mall on 6th Street, Crystal Spa is not as big as big as Wi, but it does have some distinct advantages. With a more intimate setting, Crystal Spa is perfect for when you are looking to enjoy the Korean spa experience with a smaller group. Crystal is not open 24-hours-a-day, all week, like Wi, but you can sleep over on Friday and Saturday nights.
There is six hours free parking. Crystal features a quiet and peaceful setting that allows you to relieve your accumulated stress. Crystal is open to adults only. Crystal's patrons are treated to a full Aveda product treatment. The special rooms here are the charcoal room, red mud room, Himalayan sea-salt room, and ice room. Many have stated that the ice room is a bit more tolerable than Wi's due to less-frigid temperatures. Also, in its extensive food court, you can try a variety of Korean foods, including refreshingly sweet red bean shaved ice and deliciously flavored boiled eggs. If price is an issue, Crystal's lower price from 6-10 a.m. on weekdays might be great, when you don't have an early class!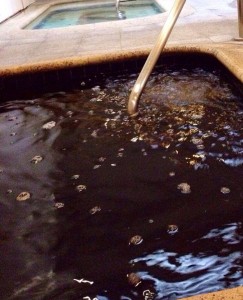 Olympic Spa
If you are a woman looking to share the spa experience with your girlfriends, then Olympic Spa may be best for you. Recommended by many, this female-only spa is smaller than the other two, but that doesn't seem to make it any less satisfying. With female celebrities such as Demi Moore reported to be loyal customers of this spa, it provides a pampering beautifying experience with exfoliating milk grainsand honey scrubs that leave skin baby soft. If you want to book additional beauty treatments, make sure to call ahead to make reservations. The most unique treatment at this spa is the mugwort bath, which many say provides a pleasant aromatherapeutic experience. For $20, including free valet service, why not try it out?
by Steven Ayala