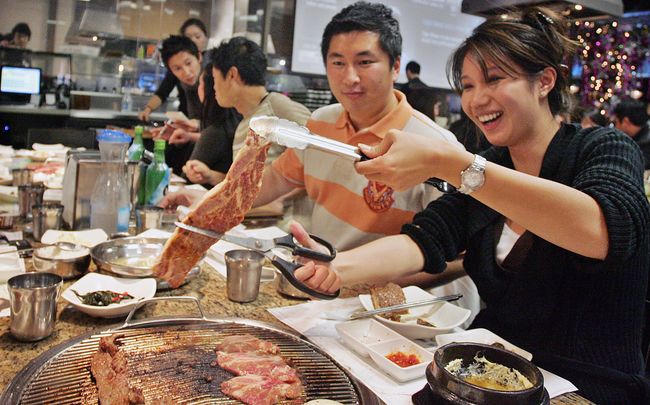 Los Angeles Koreatown is set for another "noisy" year in 2017 as more major construction projects are set to take place.
Amid the ongoing redevelopment of Koreatown, one side of the neighborhood is advocating for the rapid change, suggesting that sophisticated, newly-built skyscrapers will serve as a platform to heighten the value of the area. On the other side, some argue that speeding up gentrification of the town will only marginalize the low-income residents.
▶ Geographical advantage
Looking at L.A. County as a whole, Koreatown is centralized by three major streets—Olympic Boulevard, Vermont Avenue and Western Avenue. That essentially means that Koreatown is the hub of L.A. Even most of the public transportation routes go right through the heart of Koreatown.
Koreatown also serves as something of a bridge, connecting the business district in downtown to the entertainment areas of West L.A. It is also within close proximity to The Grove, the city's signature shopping mall.
Simply put, Koreatown is the ideal area that connects the rapidly developing downtown to the affluent area of West L.A.
▶ Attraction of youth
Chosen as the "hippest place" in the city by LA Weekly, Koreatown provides a "cool factor" among young people on weekends as it offers both dining experience as well as entertainment.
Aside from the widely popular Korean barbecue, Koreatown also provides visitors with nightclubs, spas and karaoke to attract young people. It is considered as the most dynamic neighborhood on weekends. That has become one of Koreatown's strongest selling point in attracting non-Korean visitors as well.
Even Wikipedia describes Koreatown as a "24-hour district," explaining that the neighborhood's vibrancy throughout night and day makes it reminiscent of the South Korean capital of Seoul.
▶ Changing business opportunities
In recent years, L.A. Koreatown is transforming itself into a multi-cultural, multi-ethnic district. It has become something of a landmark for people in the city.
To cater to the diversified customer base, restaurants in Koreatown are now distributing menus in other languages, including English and Chinese. Attracted to Korean pop culture, Chinese consumers have already been established as "regulars" at many Korean businesses. Advertisements of Korean businesses in U.S.-based Chinese newspapers are no longer uncommon.
Although some businesses have benefitted from the changing landscape of Koreatown, there are ones that have suffered, as the likes of Jun Won Restaurant and Mapo Galbi were forced to relocate.
▶ Is it development or destruction?
Attracting young people has led to redevelopment, introducing highly priced apartments and condominiums.
However, some are pointing to the rapid change to say that it is more of a destruction than development, especially as some construction projects have stalled after violating city's regulations. In some extreme cases, residents who were forced to leave their apartments are setting up tents in front of the construction as their way to protest against the redevelopment plans.
Case in point, residents on average are finding Koreatown a difficult place to afford as the cost of living is soaring rapidly.
Although community groups have opposed many redevelopment plans, local politicians have failed to respond as they find it difficult to turn down money-ridden real estate companies.
Many of those politicians even look down upon the Korean-American community.
"It is obviously excessive for a tiny Eighth Street to have a tall skyscraper," said one city official, who wished to remain anonymous. "But to build a 27-story building there is the same is ignoring the Korean-American community."
▶ Traffic congestion
The borders surrounding Koreaotwn are Vermont Avenue, Wilton Place, Olympic Boulevard and Beverly Boulevard. In essence, the neighborhood still remains relatively small. However, escaping Koreatown during rush hour takes at least 15 to 20 minutes. In case of an unexpected accident or weather, the delay could double or even triple.
Some have given Koreatown a grandiose nickname of "L.A.'s Manhattan." The population of Koreatown is approximately 124,000, even though the area itself remains limited in space. Traffic congestion is obviously inevitable.
▶ Rising number of homeless people
Koreatown is also going through unprecedented rise in number of homeless men and women. There are approximately 59 tents set up across Koreatown, which many homeless people use as their shelters. Regardless, Koreatown still remains as a safe neighborhood and even the police department has announced no plans to force the homeless population out of the neighborhood.
By Michael Won, Hyoung Jae Kim