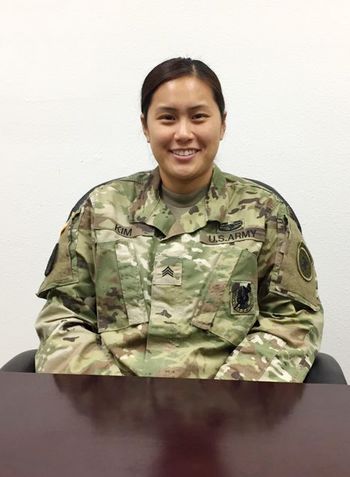 Army recruiter Jung-eun Kim, who was promoted as a staff sergeant only two months ago, currently works at his Fountain Valley office.
After living in Irvine as a child, Kim moved to Los Angeles Koreatown at age 11. He graduated from Santa Monica College and returned to his home in Orange County five years after joining the Army.
"I was attracted by the Army since I was a student in high school," Kim said.
Generally, it takes four years for one to be promoted to a staff sergeant in the Army, but Kim completed that process in just three years. He has already been deployed in Afghanistan for nine months between 2014 and 2015.
"It was a dangerous place," Kim said. "We were at the receiving end of a bomb attack, but I wasn't scared."
After returning from Afghanistan, Kim was stationed in Fort Hood, Texas. Now in Orange County, he is working in Fountain Valley, Huntington Beach, Costa Mesa, Irvine and Newport Beach. He is carrying out his recruiter duties at University High School, Fountain Valley High School, Huntington Beach High School, Los Amigos High School and Costa Mesa High School.
"We no longer have the MAVNI program which granted citizenships to high school graduates, international students and DACA recipients," Kim said. "But we still offer various benefits, including covering college tuition. To be in the Army, applicant must not have any previous record of drug use and DUI."
Applicants can choose to be either active-duty or in the reserve forces. Active-duty applicants usually sign three to five years contracts, while reserve forces require at least six years of service.
Both active-duty and reservists earn $4,000 in tuition every year. After completing the service, they are eligible for financial aid for all public universities. Living costs are also provided to all students for 36 months.
"I learned so many things in the Army," Kim said. "With my experience, I'm going to offer guidance to young people that will actually help them."
Inquiries: 714-809-4560
By Sanghwan Lim