John Kim, 61, who allegedly directly or indirectly operated Club Mega Planet (CMP), an online investment company that targeted ethnic Korean seniors, is currently being held in Gwinnett County Jail after over a year of investigation.
He primarily focused on the Atlanta Korean community, as well as Maryland, New York, and other locations, using pyramid and Ponzi schemes — a fraudulent and unsustainable investment pitch that promises unrealistic returns from imaginary investments — to lure people in.
According to Kim's arrest warrant, obtained by the Korea Daily, he is facing a felony charge of "theft by taking." Under Georgia law, this charge is considered a misdemeanor if the value of the property taken is $1,500 or less, and a felony if it exceeds that amount.
Gwinnett County court documents reveal that Kim was denied bail due to being considered a flight risk.
Last year, individuals who claimed to be victims of CMP's pyramid scheme formed the John Kim Financial Pyramid Scheme Victims of America Task Force and placed advertisements in local Korean-language newspapers seeking other victims.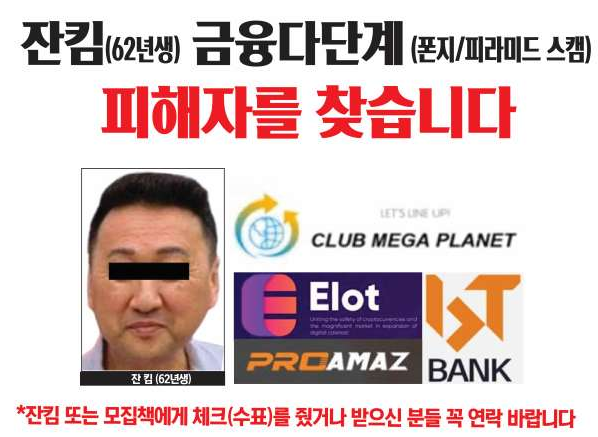 The ads explained that John Kim "directly or indirectly operated the website of an obscure company whose existence has not been definitively established, and presented it as a stable financial company."
"The company clearly targeted retirees and self-employed individuals who are not familiar with the internet and computers, promising high dividends and stealing their retirement and seed money," the ad stated.
Initially, Kim returned investors' money and provided additional points on the CMP website for referrals. However, in June 2021, the website was shut down, and investors allegedly found themselves unable to retrieve their funds.
The task force claimed to the Korea Daily last year that there were over 100 victims in Atlanta alone, with estimated losses reaching $10 million. However, these figures have yet to be officially confirmed by investigators.
Responding to the victims' claims, Kim stated in March of last year, "The claims of financial fraud are nonsense. I will take legal action against those who spread false information and news about me."
Following the news of his arrest, attempts were made to reach out to John Kim for comment, but he did not respond to the calls.
Kim is scheduled to have a preliminary hearing at the county court on July 7.
BY JIAH YOON[support@koreadaily.com]