Good morning! It's Monday, April 17, and I'm Mooyoung Lee, a reporter for Katchup Briefing, the Korea Daily's English weekly newsletter service. In Issue 3 of Katchup Briefing, I will question whether the decision by the LA City Council to reappoint Heather Hutt as acting councilmember upholds democratic values.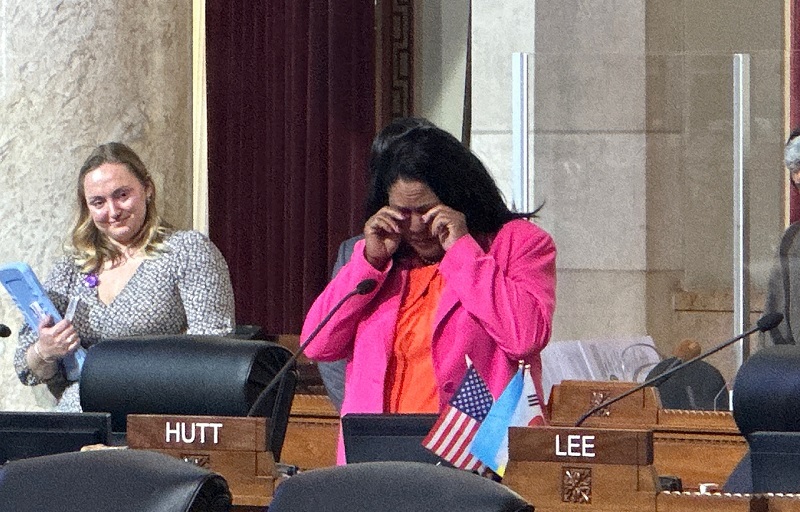 On April 11, the Los Angeles City Council voted to reappoint Heather Hutt as acting councilmember to Council District 10, which was vacated by the Mark Ridley-Thomas' (MRT) conviction for federal corruption charges on March 30. Hutt will remain in the interim position through the next scheduled election by December 2024.
The reappointment was approved by a landslide vote of 11 to 1.
This means there will be no special election for District 10, and residents will have been represented by someone they did not elect for more than three years. This deprives residents in District 10 of their rights to elect their own representative.
After MRT, the councilmember for District 10, was indicted in October 2021, the LA City Council suspended his representation to the council. A non-voting caretaker managed the district for a time until the former District 10 councilmember, Herb Wesson, was appointed as acting member. Upon his resignation, the City Council appointed Heather Hutt as acting voting councilmember for District 10 in September 2022. The appointment followed a huge push from then-Council President Nury Martinez and the Los Angeles County Federation of Labor.
The District 10 is racially diverse. Among eligible voters, 33% are Black, 32% Latino, 16% White and nearly 18% Asian. MRT and the former council member Wesson are Black, as is Hutt, who had been a state director for then-Senator Kamala Harris, now U.S. vice president.
There are rumblings about possible secret dealing between Latino and Black politicians over control of District 10, which black politicians have represented for decades. The idea of appointing Hutt initially came up during a secretly recorded 2021 conversation featuring four Latino politicians; Martinez, former Councilmember Gil Cedillo, Councilmember Kevin de Leon and the then-head of the LA County Federation of Labor.
The tape recording contained racist and derogatory remarks and triggered a national outcry. (Martinez, then City Council president, called a fellow white councilmember's adopted black son an animal and was forced to resign in October 2022.)
On March 30, the day MRT was found guilty, Council President Paul Krekorian announced that there would be "no special election" and the reappointment of Hutt.
He cited the timing and significant financial cost of a special election as the rationale for his decision.
Krekorian argued that removing Hutt would only create more turmoil, leaving the District 10 without a voting representative for the remainder of the year. A special election would cost $9 million and cannot be scheduled until September or possibly October. If in a special election no candidate received more than 50% of the vote, a runoff would occur no sooner than December, three months before the regularly scheduled primary election in March 2024.
LA Mayor Karen Bass echoed those remarks, arguing against a costly special election and endorsing the reappointment of Hutt. "Why should taxpayers be put on the hook for another special election that would end in December at the earliest, just to have another election that's already planned three months later in March?" She even said the election would cost $14 million.
District 6, after Martinez's resignation in 2022, and District 12, where former Councilmember Mitchell Englander in 2018 was convicted of bribery, held special elections. No one argued for not having a special election due to cost in those districts. So it's unclear why the issue of cost was brought up in District 10.
If we ignore due process and voter rights to save money, can we call it democracy?
Tax money should be spent to support our democratic values. Taxes are collected to pay for democratic processes, and financial cost should not hamper our democratic values. Money should not suppress democracy.
It seems that the decision by the City Council president and LA mayor not to hold a special election without consulting with eligible voters has caused dissatisfaction and raised questions about the democratic process.
"The question is whether there was a 'proper public input process' before holding an election or running a candidate race," said a Korean-American who spoke at the April 11 council meeting. "This kind of self-righteousness and one-way decision-making is completely unacceptable and sets a shameful precedent."
"Democracy did not win today and instead backroom politics prevailed. City Council's decision is unethical and illegal," said Grace Yoo, a Korean-American lawyer who will run for District 10 council seat.
Even if one accepts the 'no special election' arguments, it is not easy to understand why the City Council reappointed Hutt. In early March 2023, while serving as the district's acting councilmember, she declared her candidacy for next year's election.
The reappointment will give her a significant leg up in the campaign leading to the election. It is clearly a head start for her.
"Hutt, who already announced her bid for the election, should resign. It is wrong for the Council to appoint a person who will run for the next election as an acting councilmember," said Daniel Park. co-chair of the Korean American Leaders Committee.
Councilmember Monica Rodriguez, who cast the lone dissenting vote on Hutt's reappointment, said the city should have called for a special election and assigned Hutt as a nonvoting caretaker. "It is devoid of democracy," she said.
BY MOOYOUNG LEE  [lee.mooyoung@koreadaily.com]