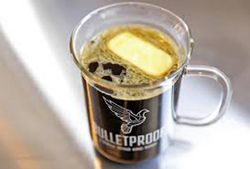 "Bulletproof diet," which is gaining popularity in the U.S., could lead to long term nutrient deficiency, warned nutritionists.
You might find yourself recoiling from the idea of a spoonful of butter in a cup of coffee. However, it's been a cult for many people to have this rather outlandish mixture as their key for successful weight loss.
Created by David Asprey in 2009, the recipe of Bulletproof coffee is a riff on yak butter tea Mr. Asprey has tried while hiking in Tibet. Finding the tea energizing, Mr. Asprey modifies the recipe with low-mold coffee beans and grass-fed butter. To make Bulletproof coffee, you can simply add two tablespoons of unsalted grass-fed butter and two tablespoons of coconut oil to a cup of coffee.
Introducing this new energy-bomb coffee, Mr. Asprey says, "having the 450-plus-calorie cup of coffee instead of breakfast suppresses hunger, promotes weight loss and provides mental clarity." People found this new diet recipe much attractive and groundbreaking, as proved by unsalted grass-fed butter shortage from many stores.
However, experts are skeptical about nutritional effects of Bulletproof coffee diet. Not only did the British Dietetic Association listed the 'Bulletproof' method among its top 10 celebrity diets to avoid for 2016, Amy Schnabel, UCLA Medical Center nutritionist also commented that Bulletproof coffee does not have actual health benefits. "Coffee is a good source of antioxidants and it has caffeine. That would make any of us feel good whether it is black or loaded with cream. If you expect to drink one cup of this and feel good, and have mental clarity, you probably will – just because of the placebo effect," said Ms. Schnabel.
Doctors emphasize that the first meal of the day is the most important one, for which you should have a nutritiously balanced meal instead of a cup of buttered coffee. They say that best breakfast should contain carbohydrates, protein, fiber and stimulant, whereas coffee at best is a stimulant.
Original document available from http://www.koreadaily.com/news/read.asp?art_id=3997232
Translated by Heewon Kim