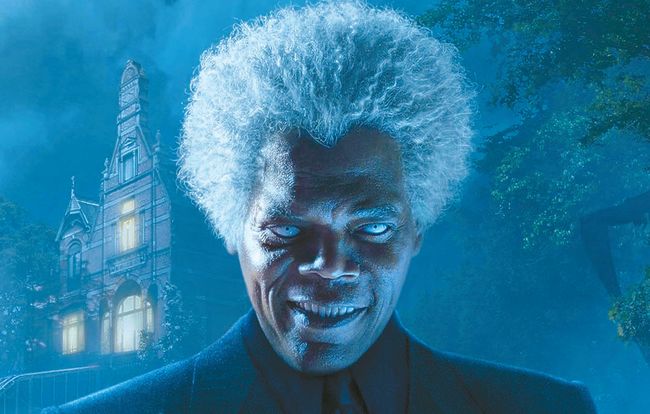 Returned Tim Burton's new movie is sweeping the box office again. 'Miss Peregrine's Home for Peculiar Children', which was recently released, is attracting many viewers around the world with its unique "peculiar" imagination. Especially in the movie, actor Samuel L. Jackson is receiving a lot of love although he played the bad guy character, Barron. We met him last month in Beverly Hills
Director Tim Burton revealed that he had you for Barron's character in his mind from the beginning. Could you explain about the casting process?

"I received the script after hearing the crew saying 'Tim Burton wants you". But honestly I was ready to say 'yes' even before I got the script in my hand. It was like, 'Tim Burton wants me? Okay! Good! I'll do it!'"
Did you like Tim Burton's movies before
"Yes. I especially liked Planet of the Apes and Edward Scissorhands. I mean, which of his movies is not likable? His cinematic skills are needless to say, and I always admire his ability to create another world of new rules and conceptions and another reality."
What did you like about Barron's character?
"Barron is not just a typical villain, but he's a character that is especially focused on finding his humanity. I also saw him feeling some sort of guilty that he had caused something bad in the past because of his greed and also ruined other people's lives. So because of that, I thought he was trying so hard to find his humanity with his own way. It was my idea to put a little bit of humorous and cynical quality to Barron after discussing with the director, as I thought it would add more reality to him, who desires so eagerly to be a human."
Your makeup is very unique in the movie.
"Tim Burton sent me an image before shooting saying, 'Barron will probably look like this', and I put makeup just like the image. I received the teeth model about a month before the shooting, and I constantly practiced main lines with the teeth model to talk more naturally. The hairstyle was okay because I have done something similar, but the eyes were very hard. I got used to them about 10 minutes after I wore them, but after 3 hours I couldn't do anything but shout 'Oh, no, please, not anymore!'"
How was it like to work with child actors?
"When I joined the shooting, the child actors had been shooting for 6 weeks by the time. So they already had created a great vibe, so I could act very comfortably. When I appeared in the set after finishing my makeup, they were not scared at all, but were so excited. They would come to me during breaks and take selfies with me."
If there is a message you want to give trough the film, what would it be?
"That you embrace your peculiarity. That everybody with his or her own way can contribute to a community. And believe that the more certain you get about yourself, the more great things will happen for everybody. I believe that if we embrace differences and peculiarities among us, the world will turn to a more diverse and interesting place."
Original article available at http://www.koreadaily.com/news/read.asp?art_id=4666449
Translated by Audrey Joung