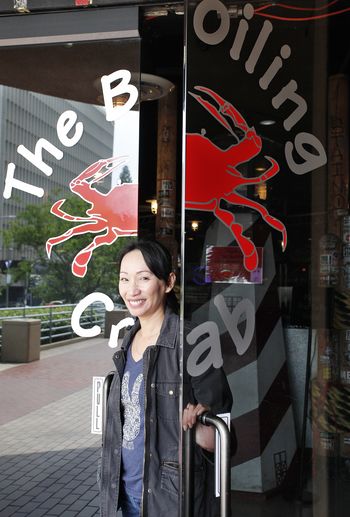 Six years ago, The Boiling Crab opened in L.A.'s Koreatown neighborhood. The Cajun seafood restaurant became an instant hit with the locals, and has some of the longest lines in the neighborhood. The Korea Daily met with The Boiling Crab owner Bach Hoang to talk about why the chain restaurant chose Koreatown as one of its prime locations.
When asked about the inspiration behind The Boiling Crab's success, Hoang began talking about Jjukku Jjukku and Honeymee.
"Everyone questioned if those businesses would work, but both are flourishing now," Hoang said. "If the idea and product quality are clear, any food business in Koreatown could work. Koreatown has established itself as the mecca of eateries."
The restaurant's rise is especially notable as it is thriving in the same exact location where prior restaurants have floundered year after year.
"There were many people who tried to convince me not to open a restaurant in Koreatown," Hoang said. "Koreatown is already a popular location for food and I noticed that people don't hesitate to go through hectic parking situations. So I was convinced that a business here would take off. Now, we have customers coming in from the Valley and South Bay."
So how much does The Boiling Crab sell during its business hours—3 to 10 p.m.—in a day?
"On a weekday, probably from 500 to 600, but 1,500 on a weekend," Hoang said. "The best year so far has been 2016. That proves that Koreatown is becoming multiethnic."
Hoang says that only 20 percent of The Boiling Crab's customers are Koreans. A bit less than 50 percent of the customers are Asians, while blacks take up about 30 percent. There is also an established group of foodies enjoying the unique dining experience with Mississippi or Louisiana style spicy seafood contained in a plastic bag. It is also notable that the millennials are the majority of the customers at The Boiling Crab.
"When we have customers lining up outside after 7 p.m., we often have to give them a warning since we may not have the food to serve them," Hoang said. "We could expand our business hours, but that would be inefficient from a business standpoint."
As the lines continued to grow, The Boiling Crab in Koreatown opened a next-door location to just serve customers ordering takeout while also increasing the number of employees to 60.
Hoang even opened an office space on the third floor of the same mall after The Boiling Crab's Koreatown location continued to take off. She plans on opening Boogie McGee's Bayou BBQ on May 16.
"We're going to try to entice customers with a unique way of cooking BBQ," Hoang said. "But it'll probably be difficult to beat the current Korea-style BBQ."
Hoang added: "In Koreatown, the food has to be unique for the business to do well. Word of mouth has to be the base of your attraction. Even the ones who start off well end up fading once the quality of food, service and employee maintenance aren't managed properly. This may sound like textbook answers, but that's exactly why we've done well."
There are currently 15 locations of The Boiling Crab throughout the country. The first restaurant was opened in 2004 by a Vietnamese couple—Dada Ngo and Sinh Nguyen—in Garden Grove. The restaurant allowed franchising until last year, but has now limited itself only to locations directly managed by the headquarters.
By Brian Choi