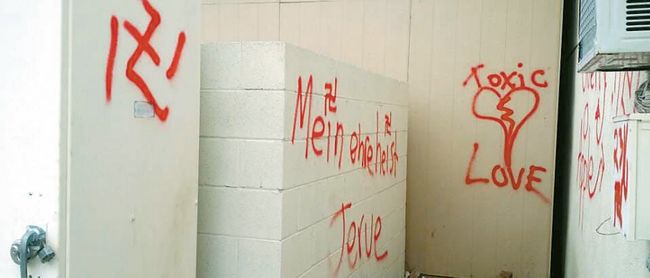 The number of hate crimes and incidents are increasing significantly in Orange County, CA.
According to the Orange County Human Relations Commission, 29 hate incidents and 5 hate crimes have been reported over the past month.
A Korean-American Christian church was one of the victims. True Light Christian Church in Buena Park was vandalized with swastikas.
"We had some damages such as theft or vandalism in the past, but we had never seen racist crime in our church," said Peter Lee, The pastor of the church. Buena Park Police Department is investigating the case, weighing the possibility of a hate crime.
The Police Department is also investigating a threatening message, "drop a bomb" written on the wall of a mosque in Tustin on December 12th. On December 8th, a Cota de Caza entry point was vandalized with epithets against blacks and gays. And there were other hate incidents – a man yelling at a Muslim woman and trying to rip her hijab off, or students chanting "build a wall" to a Latino janitor.
The commission said most hate incidents are targeting Latinos, Muslims, Immigrants and LGBT. According to a report released by the Council of American-Islamic Relations, there were 363 hate incidents against Muslims in 2015, which is a 68 percent increase from 2014. There were 11 hate crimes against LGBT reported last year, which exceeds the number of hate crimes against African-Americans and Jewish.
Due to a surge of hate crimes and incidents, the Commission launched a "Hate Free OC" campaign (ochumanrelations.org/hatefreeoc) to prevent the spate of crimes. The Commission will raise awareness of hate crimes while educating and promoting the hate free actions in community.
Website: Hate Free OC | OC Human Relations
Original article by The Korea Daily Los Angeles
Translated by Narae Lee