SHENZHEN, China – The battle for commercial drone supremacy is well underway, and so far, China's in the lead.
Back in December, world's largest drone manufacturer DJI opened the first-ever flagship retail store for the devices here in Shenzhen. At the 800 square meter space, customers can check out all different types of drones, including one model priced over $4,000.
Earlier this month, Wall Street analysts gathered around at DJI's booth at the annual Consumer Electronics Show (CES) in Las Vegas.
Many other countries, including the United States and Japan, are competing fiercely to take the lead in the commercial drone market, which grows an average 35 percent every year.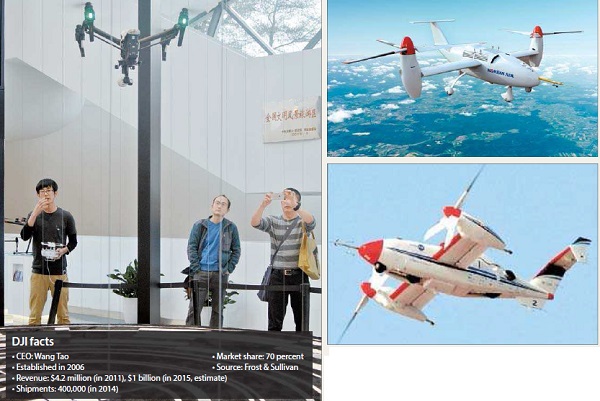 Unfortunately, Korea is lagging behind.
China's success in commercial drone production has given its companies a 70 percent share of the global drone market.
But in Korea, most of the drones sold are for industrial use, including rescue missions or fighting fires. As a result, Korea's drone market is worth only about 10 billion won ($8.28 million), which is 0.5 percent of the total global market.
Additionally, among the 30 drone manufacturers at this year's CES, only one local brand, BYRobot, was represented.
It is not that Korea's technology is falling behind. Korea has five patents related to drones and is ranked 7th in the world in its military drone technology, according to Korean Air. "Korea actually has better drone technologies than those featured at certain shows or exhibitions," said Kim In-hwa, a director at Korean Air's aviation technology research center.
One of Korea's key technologies is the tiltrotor drone.
Tiltrotor drones are capable of vertical takeoffs and landings like helicopters, but can shift their wings to fly like airplanes. As a result, the drones can fly two times faster than helicopters at 250 kilometers per hour (155 mph) and at an altitude as high as 4.5 kilometers high (2.8 miles), making them ideal for patrol missions.
Earlier this month, Kang Wan Koo, a senior researcher at Korean Air's aviation technology research center, simulated how a tiltrotor drone could be used to turn away North Korean vessels from the border from the center's offices in Daejeon.
Korea Aerospace Research Institute (KARI) and Korean Air worked together in developing the tiltrotor "KUS-VT" drone.
The United States first developed the technology in 2011, making Korea the second and only other country to possess the technology.
"Korea is the only country in the world that can commercialize tiltrotor technology," said Kim In-hwa, a director at Korean Air's aviation technology research center. "We plan to begin its commercialization in 2020 and go into mass production by 2024."
Korea has fifth-most patent applications in drone-related areas, and is very strong in areas like airframe assembling and design analysis, according to KARI. This is why some industry insiders believe Korea can compete with China, who is currently monopolizing the market.
"They should get out of the frame of researching drones for military use and need to develop products that meet consumers' tastes," Oh Se-yoon, a junior partner at McKinsey & Company's Seoul office.
But some in the drone business think it wouldn't be wise to go head-to-head with China in commercial drones, considering its head start and current dominance in the market.
"We plan to differentiate our strategies from those of Chinese companies that focus on drones for personal uses," Kang Wan-koo, a team leader at Korean Air said. "We are going to build more drones for industrial uses, which can be used to make deliveries or conduct rescue missions.
Still, the country faces more than a few obstacles in becoming a force in the drone market.
Due to the security reasons, military technology is not allowed to be shared with ordinary commercial manufacturers. Additionally, the country is lagging behind in key technical parts of drone-making, such as sensor and communications equipment. Korea also has to import all of its operating software from abroad.
The government's strict regulation of drones is one of the biggest hurdles for the development of the technology in Korea. In order to fly a drone within Seoul, the user has to get approval from the Defense Security Command, Ministry of Land, Infrastructure and Transport and Ministry of National Defense ? even if they're just an average citizen that wants to take a new toy out for a spin. If the user doesn't get approved, they can face hefty fines from the government.
In contrast, China barely regulates drones in its airspace.
"We do not need to get a permission in advance in order to operate drones," said Ella Zhang, a representative for DJI. "The only prohibited places are near airports, military facilities and government offices."
In an attempt to boost the competitiveness of local companies, the Korean government is working to ease some regulations related to drones, and also plans to invest in companies developing new drone technology.
"The Ministry of Strategy and Finance plans to invest 3 trillion won next year to help the government's initiative to expand research and development," said Joo Jin, a team leader at KARI. "About 300 billion won out of the total government budget is planned to be used for the drone industry."
Major companies in Korea are also deepening their interest in drones, including Samsung Electronics, which launched a new 15-member team that will only research and develop drone technology.
Still, experts argue that it's more important for Korean companies to anticipate future developments in the industry than try to replicate technology currently offered by companies in countries like China.
"It is hard to put the technology to practical use right away," said Song Yong-kyu, a professor at Korea Aerospace University. "We are currently at a time when we need to think about 10 years ahead."
BY KWAK JAE-MIN, LEE HYUN-TAEK [kim.youngnam@joongang.co.kr]