Despite their name, the four members of the K-pop girl group Brown Eyed Girls are no longer girls. Besides the youngest member, Gain, all are approaching their mid-30s, and the all-female act has become one of the country's longest-running K-pop groups.
Having debuted in 2006, the Brown Eyed Girls are getting ready to celebrate their 10th anniversary next year. No K-pop girl group has stayed together and active with the same members for as long as them. There have been rumors that the group would break up, but the members stuck together and moved to the same music label after their contracts with their former agency expired.
The group has also stuck to their original sound, rather than opting for easy hits. Instead of making catchy music with mass appeal, the Brown Eyed Girls released their sixth regular album, "Basic," in early November based on the theme of quantum physics. In a review, Billboard.com declared that with their new album the Brown Eyed Girls "further refine their roles as K-Pop provocateurs." A nine-year-old girl group that sings about quantum physics is surely a rarity in the pop music scene.
Ilgan Sports, an affiliate of the Korea JoongAng Daily, recently held an interview with the group over jugs of beer in Sangam-dong, Mapo District, western Seoul.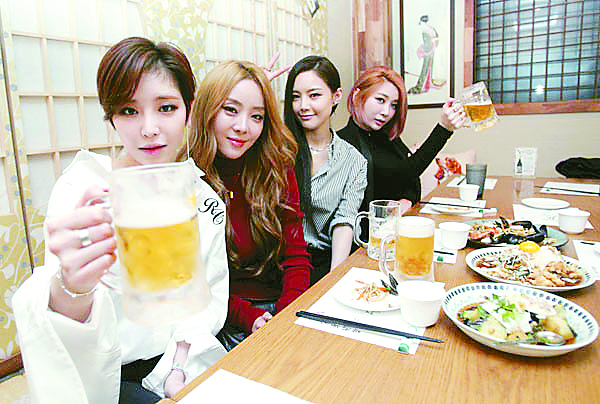 Since this is an interview that involves alcohol, here is an official first question for you. How much do you usually drink?
Miryo: I can drink up to a bottle of soju, but I try not to drink because I'm kind of obsessed with staying in shape.
Gain: Alcohol didn't used to agree with me. I used to sleep all day long after drinking just a shot of soju, but now I can drink as much as others drink.
Can we talk about your recent album? Some of your critics said this album was way too difficult because it is based on physics.
Narsha: It was challenging for us, except Miryo.
Miryo: Cho Young-cheol [the producer for "Basic"] and I had interest in the topic and we thought about how to blend it into popular music. It was a challenge, though.
JeA: You know, I write songs, but I really didn't know what to write when I heard the theme. It was so hard. We worked hard on each track, and I burst into tears when I listened to the album. Looking back, we've grown up a little.
You must not be content with results brought by the album, though.
JeA: We had two options. It was our first album to come out in two years and four months, so we could go easy by filling the album with popular music, but a composer told us that we should stay cool even if the album fails. I couldn't understand him back then, but now I know what he meant. Who cares about quantum physics in this fast-paced society? It's meaningful that we can approach the topic as a girl group.
You must feel responsible as the longest-running K-pop girl group.
Gain: I feel like it's our destiny because we will keep thinking about music. Some days, I feel like to doing easy music and making a comeback, but I know no single lasts long on online music charts. Under such circumstances, I think we should do music that we love to do.
It has been recently rumored that you would break up.
JeA: Producer Cho was working on this album for two years, and we studied quantum physics for a year, but we couldn't reveal details about this album when the rumors came out.
How could you manage to perform together over the past nine years?
Narsha: We all know each other well and we understand and accept each other as we are.
Did you have a hunch that you would make it big when you released your very first album?
JeA: I was one of the first members recruited, and this group had a lot of ups and downs. We finished recording an album, but some members left because they had issues with the company.
I was desperate to find members, and then I found Narsha. I saw Gain on an audition show, and she was eliminated from the show because a judge pushed a wrong button. I felt a sense of destiny when I saw them.
How was life before you guys came out with the hit song "Abracadabra" (2009)?
JeA: We debuted with a ballad song and began to earn popularity by singing songs like "Love" and "Hold the Line" [which are medium-tempo dance songs]. So we didn't struggle to earn fame and popularity in early days of our career.
Miryo: I really didn't want to sing "Hold the Line" because we were confident in our vocals, but the company wanted us to sing this bubbly song.
Narsha: After "Hold the Line," we began to do a lot of TV shows and we were overwhelmed. And then we released "Abracadabra" and it hit it big.
JeA: I couldn't enjoy those days back then because we were tied up with a lot of work.
Have you ever wanted leave show business for good?
Miryo: If I could live life again, I would choose a different job because I tend to restrict myself because I'm working in this industry.
JeA: Never. I always think about evolving just like Madonna.
Gain: Don't say that. I'm trying really hard to stay on top.
Could you share some of your personal goals?
Gain: I'm turning 30 next year. I used to be easy on myself but I want to become strict when I turn 30.
Narsha: I want to challenge myself to various things when chances are given to me. And I also want to grow old with grace and style. That's my life goal.
Miryo: My goal is ranking No. 1 on the Billboard singles chart, and getting a Grammy Award and performing there.
JeA: I want to go to the Grammys with Miryo. I hope to write more songs because not many people know that I'm writing songs.
BY UM DONG-JIN, HWANG MI-HYUN  [so@joongang.co.kr]