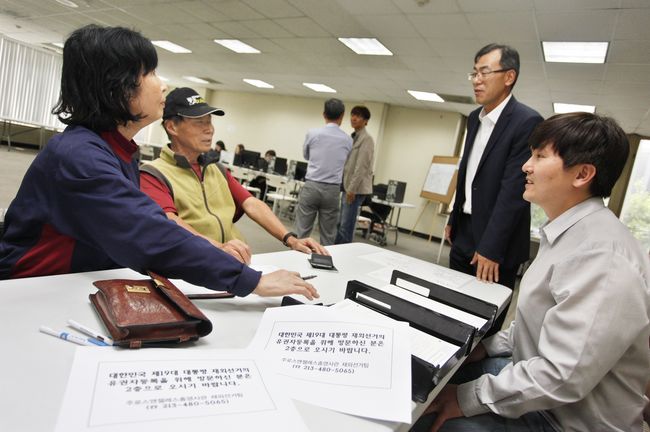 The recent impeachment of South Korean President Park Geun-hye has confirmed an early presidential election in May. That also means that the election will also be open to South Korean citizens living abroad in late April in the country of their residence as their motherland prepares to elect its 19th president.
Per South Korean constitution, presidential election must take place no later than 60 days after the impeachment of the country's president is confirmed.
As Park was impeached on March 9, South Korea must hold the presidential election by May 9. It is widely believed that the election will take place as late as possible to ensure plenty of time for candidates to run their campaigns, especially as South Korea has Labor Day (May 1), Buddha's Birthday (May 3) and Children's Day (May 5) in the first week of May.
If May 9 is confirmed as Election Day, candidates must also be designated by middle of April. That also means that the registration day for candidates is April 24 and 25 with their campaigns officially being held for 22 days from April 17.
For South Korean citizens in the United States, they will be given an earlier opportunity to cast their ballots. By law, the South Korean presidential election for its citizens living abroad will have to start two weeks before and continue on for six days.
If the election in Korea is confirmed to take place on May 9, the election for citizens abroad will take place between April 25 and 30 in 204 locations across 116 countries around the world.
To be able to vote outside of Korea, its citizens residing abroad must register to vote at least 40 days before the election. The registration process is held for 20 days. The registration has already started after the impeachment was confirmed on March 9.
The level of interest in South Korean politics among Koreans in Los Angeles is higher than it has ever been.
Since the voter registration began at the South Korean consulate office in L.A., more than 500 people have submitted their registration application online.
"We've held four elections in the past, but the voter registration has never been as high as it is now," said L.A. consulate office's overseas electoral director Jae-su Yoon. "We'll have to wait and see how things continue on, but the participation rate is looking solid."
Approximately 140,000 South Korean citizens are eligible to vote in the "abroad election." L.A. consulate office is encouraging the rest of the Korean citizens to register as voters.
The eligible voters are also categorized as green card holders and overseas citizens. While green card holders are permanent residents of the U.S., the "overseas citizens" category entails the likes of tourists, international students and government officials based abroad.
Registration is currently available on the South Korean National Election Commission's website (ova.nec.go.kr/cmn/main.do). Passport number is required for all eligible voters. Registration is also available at the L.A. consulate office on weekdays from 9 a.m. to 5 p.m. on the second floor.
On the day of the election, the L.A. consulate office plans to install three voting booths to accommodate the voters.
By Koo Hyun Chung