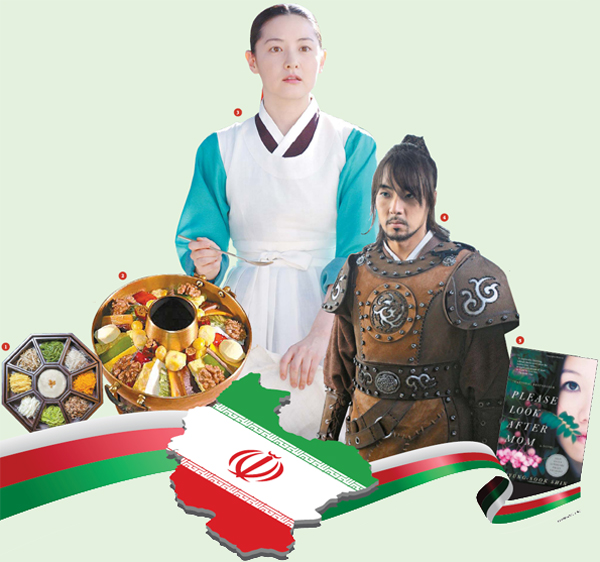 With Iran opening its door for economic cooperation with many countries around the world, many cultural experts see this opportunity as the perfect time to seek ways to incorporate the Iranian perspective into producing creative content, and to spread content popular elsewhere in the world to Iran.
As Korean President Park Geun-hye visits the country this week to discuss ways to collaborate and give momentum to each country's economic growth, the Korean government and private companies are looking for ways to spread the word about Korean culture as a way to build stronger ties between the two nations.
Korean culture, especially traditional style, isn't so foreign to many Iranians, as two Korean period dramas – "Jewel in the Palace" (2003-04) and "Jumong" (2006-07) – were big hits there. "Jewel in the Palace," which featured all different types of elaborate royal court dishes, achieved a viewership rating of 86 percent in Iran when it was aired there on weekends in 2006 and 2007, Korea's Ministry of Foreign Affairs said at the time.
The Korean Embassy in Iran even hosted a "Korean Cultural Week" with the theme of Korean food in 2014 to let local fans enjoy the dishes they had seen on TV at home.
Given that Iran has not yet begun importing many other forms of Korean cultural content, such as K-pop music, movies, literature and other dramas, experts say it might be smart to ease Iranians into Korean culture by presenting more of what they are already familiar with, such as Korean period dramas.
"Iran has shown its respect for traditional culture," said Sun Seung-hye, director of the cultural cooperation division at the Ministry of Foreign Affairs, adding that spreading the word on Korea's traditional culture might be a good first step toward further cultural exchange in the future.
To expedite such plans, both countries sat down for the fourth Korea-Iran Joint Cultural Commission last week. The commission discussed a variety of cultural content ranging from the arts and education to media and sports, and also contemplated ways to promote Korean studies in Iran along with Korean language education.
The joint cultural commission was resumed for the first time in three years after its last meeting in 2013, and both countries have agreed to continue holding such joint meetings regularly so that both governments can pave the way for more active cultural exchange from the private sector as well.
"Period dramas can be one thing to ignite Hallyu [the Korean Wave] in the country, as such dramas usually include personal, family and social values in the story, which I think many Iranians appreciate," said Sun, who recently visited Iran for the meeting, adding that as the government pre-screens programs before they are aired on TV, period dramas can have more competitiveness as they are suitable for viewers of all ages.
"It is also possible to ease people in with a glimpse of hanbok [traditional Korean clothing] shown in the period drama, as well as different dishes, so that we can seek ways to bring in more diverse Korean culture as a follow-up to certain TV programs," she added.
Another approach the government is considering is getting the younger generation excited about Korean culture. The Ministry of Foreign Affairs' cultural cooperation division noted that Iran has a population of 80 million, which is the largest among countries in the Middle East.
"Items discussed through the commission will contribute much in instigating cultural exchanges between the younger generation in each country," the division told the JoongAng Ilbo.
Although "Descendants of the Sun," a recent megahit K-drama that aired simultaneously in Korea and China, is not a historical drama, the Korean media reported that the rights to air the program were purchased in Iran, along with many other countries. And such a show, if received well by the young in Iran, can help make a more diverse range of TV programs that have been proven to be popular outside Korea get a shot at success in Iran.
Furthermore, Iran, which has a vast collection of ancient Persian texts, has also shown interest in Korea's know-how in digitizing historical texts. Such an interest in Iran's own literary works could potentially be expanded to contemporary Korean works, as Korean literature is being increasingly translated into English and other languages ever since Korean author Shin Kyung-sook's novel "Please Look After Mom" gained wide acclaim overseas.
On the other hand, Korea's famous K-pop music performed by boy and girl groups might not be able to succeed in Iran, despite the fact that Korean idol stars have been at the forefront of the Korean Wave in many other countries.
The culture of Iran does not accept women dancing and singing in public, so even if fans there become interested in the music, it would be hard for them to enjoy performances within the country.
Boy groups may have a better chance in Iran, but many pop culture critics declined to comment on the matter since they have not yet looked into the spread of Korean pop culture in Middle Eastern countries over all.
BY LEE SUN-MIN [summerlee@joongang.co.kr]