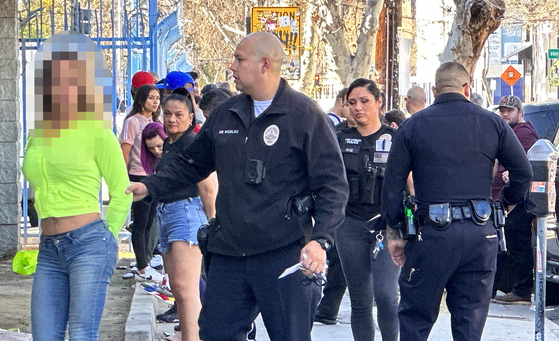 An illegal gambling den that was operating at a wholesale shopping mall near the fashion district (jobber market) in downtown LA was uncovered by the authorities.
The Los Angeles Police Department (LAPD) raided a store in Main Wholesale Mart on 17th Street and Main Street at around 1 p.m. on the 8th, detaining dozens of people at the scene.
After executing a no-knock swarrant for illegal gambling, authorities seized drugs and a large amount of cash at the scene.
"The illegal gambling den was set up in a rented store in the building was run by a large Mexican gang and 30 to 40 people were detained at the scene," Gordon Helper Sergeant said.
He went on to say, "We are investigating whether the building owner allowed the lease knowing about the gambling operation, and the relationship between the building owner and the tenant," but added, "But how could they not know?"
According to Korean business owners operating at the mall, the owner of the building is a Korean named Jang, who has owned the mall for at least 20 years.
The gambling den has been operated at the end of the mall for more than six months under a small sign called "PAC'S ARCADE." With more than 10 entertainment devices were installed inside, it looked just like an arcade on the outside. But on the inside, various counts of drug trafficking, crime, and violence occurred, according to the police.
"It was one of the largest illegal gambling centers run by the gang," Helper Sergeant said. "It was run by three to four gang members, and hundreds of people visited a day."
There are about 10 businesses operating in the mall, more than seven of them are Korean businesses, most of which are hat wholesalers, according to the business owners in the building.
Korean owner A said, "With the gambling house operating in the building, I constantly suffered from the smell of marijuana and loud voices of people talking. People who came to gamble occupied the parking lot, so our customers had trouble with finding a parking spot."
Another owner, B, appealed, "they borrowed hat boxes from me to cover the entrance of the store and stacked it at the entrance, and a few months later, I realized they took almost 100 boxes."
Owner C said, "This is the first time something like this happened in my decades of running a business here," adding, "I've heard from the police that the owner of the building has several other buildings besides here, and there were problems with tenants operating illegal businesses in those buildings as well."
Police said they arrested all gang members who participated in the illegal gambling house operation. In addition, all visitors at the scene were detained, and those who passed the drug test were released.
BY JANG SUAH [jang.suah@koreadaily.com]