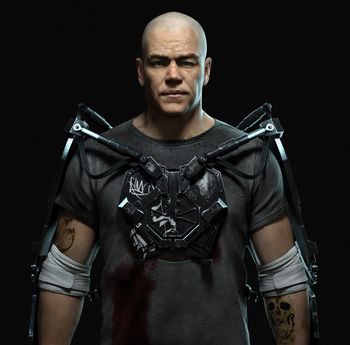 Blur Studio is a worldly renowned production company, especially famous for the film Deadpool. Microsoft's Halo, Star Wars by George Lucas and many other entertainment contents including movies and games have gone through the hands of Blur Studio.
For anyone aspiring to become a VFX artist, working at Blur Studio would be a dream job. One of Blur Studio's artists is a Korean man Kyoungsoo Kim.
Kim began working for Blur Studio in 2015 as a member of its character team. He was the only one of Blur Studio's intern to earn a full-time position at the company.
"I still remember my job interview vividly," said Kim. "When the HR director finally offered me the job, it almost felt like a dream. It may seem like a coincidence that I was hired with not much experience, but I did spend two years ingeniously for this job."
Kim graduated a college in South Korea with a degree in art education. After three years of working for an exhibit curation company, he felt that clearly was not the path for him. To pursue his passion for animation, which he had since childhood, Kim spent every penny he had to enroll in Academy of Arts University in San Francisco.
Studying abroad was obviously a tall order for Kim whose English was only his second language. Regardless, though, he was happy. He was doing something he liked. It was something he always wanted to do.
Soon after, Kim ran into hardships. With only a year to go until graduation, the challenge of finding a job became more daunting by the day.
Kim was advised to spend the year to focus on schoolwork, but he longed for an opportunity to better utilize his time remaining in school. He eventually chose to lock in on build his portfolio. He chose Matt Damon in the movie Elysium as a model to create his own character and began working on developing a 3D art.
For the next 12 months, Kim attended classes in the morning and worked on his project at night. Every day from 10 a.m. to midnight, he invested all his time and efforts into developing his own character. A year later, he finally completed the project.
Kim then heard of the graphic expo SIGGRAPH, an opportunity for aspiring 3D artists such as himself to network with headhunters of prestigious graphic studios.
At the event, Kim approached HR directors and submitted his portfolios. Some of them seemed receptive to his work, but many others were not.
That is when Kim ran into Blur Studio's HR director by chance. He knew that this was an opportunity he simply had to capitalize on.
"I insisted on asking them to spare some time for me to show them my portfolio when they kept turning their backs on me after handing me their business cards," Kim said. "Two or three days later, I was interviewed by the supervisor and the directors. They wanted to hire me as a freelancer immediately, but they were surprised when I told them that I still needed to finish school."
For the remainder of his days in school, Kim traveled back and forth between San Francisco and Culver City to balance his work and studies.
Kim is a 3D character artist. His job is to recreate a moving person or another form of living creature. His primary job is to realize the imagination of a concept artist into a visible artwork. Today, Kim is in charge of working on prominent films, including Titan Fall 2, League of Gods and Star Wars: The Old Republic.
Recently, the trailer of Titan Fall 2 drew over 8 million views on YouTube. It was later nominated by the Visual Effects Society. Kim emphasizes that he still has more to learn.
"I'm more interested in film production than games," Kim said. "I want to gain more experience and develop an animation that can deliver a warm humanistic message."
By Byung Chang