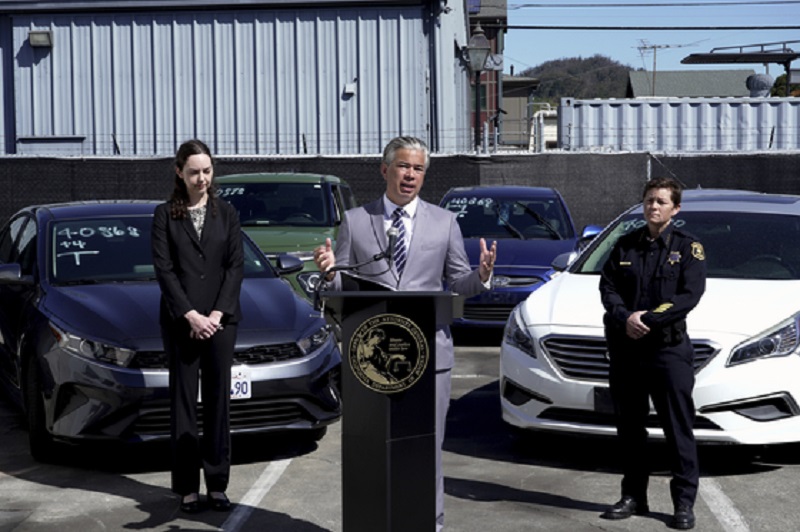 The decision came as some Hyundai and Kia owners filed a class action lawsuit against the two automakers demanding full compensation for the thefts inspired by social media.
"The agreement, which could be valued at approximately $200 million depending on how many customers elect to participate, will provide cash compensation for customers who incurred theft-related vehicle losses or damage not covered by insurance, in addition to reimbursement for insurance deductibles, increased insurance premiums, and other theft-related losses," Hyundai Motor America and Kia America said in a joint statement Thursday.
"For the subset of customers whose vehicles cannot accommodate the software upgrade, the agreement will provide reimbursement up to $300 for the purchase of various anti-theft devices."
A court is expected to review the proposed settlement of the matter for preliminary approval in July, the automakers said. Notices will be sent to individual class members following final approval and pursuant to the terms of the settlement.
The settlement includes approximately 9 million Hyundai and Kia vehicles. The exact number of people engaging in the collective legal action has not been disclosed.
Thefts involving vehicles from Hyundai and Kia have been skyrocketing in the United States since 2021, driven by the rapid spread of videos on social media that detail how to steal such vehicles using everyday tools.
The stolen cars are reported to be Kia models produced between 2011 and 2021 and Hyundai models from 2015 to 2021 that do not have an engine immobilizer function, which is an electronic security system that prevents the engine from being started unless the driver has the correct key.
In the videos, thieves, mostly teenagers, remove the plastic that covers the keyholes and start the engines with USB charging cables. The whole process can be completed in as little as thirty seconds.
The thieves upload videos offering step-by-step instructions with tags such as #kiaboyz or #kiachallenge.
Some 6,970 Kia and Hyundai vehicles were reported stolen in Milwaukee, Wisconsin in 2021, an 800 percent jump from 2020. Thefts of Hyundais and Kias in Minneapolis, Minnesota, surged by 836 percent in 2022 compared to the previous year.
Hyundai and Kia in February announced that they will offer free software upgrades to roughly 8.3 million vehicles in the United States.
"We appreciate the opportunity to provide additional support for our owners who have been impacted by increasing and persistent criminal activity targeting our vehicles," said Jason Erb, chief legal officer at Hyundai Motor North America. "Customer security remains a top priority, and we're committed to continuing software upgrade installations and steering wheel lock distribution to help prevent thefts and offering insurance options for those who have had difficulty securing and sustaining coverage."
BY SARAH CHEA [chea.sarah@joongang.co.kr]