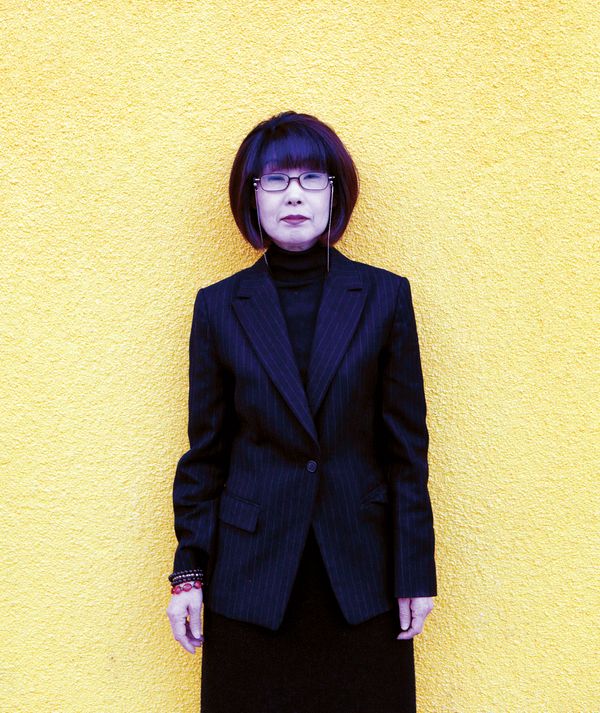 What have stolen our heart more than her stage costumes were her design sketches. From romantic dress of the late 19th century (Love's Labour's Lost) to the combination of a bold black dress, choker necklace, and fishnet stockings that reminds audiences of the stage of Moulin Rouge of the 1920s (Wild Party), her sketches somehow contained the mood of English literature of the early 20th century. We had a conversation with Professor Hyun-sook Kim of California State University, Fullerton, who is living life as passionately as her stage costumes.
Falling in Love with Theatre
Kim, who entered Korea National University in 1972, was in the school's theater club from sophomore year to her graduation.
"I wanted to be an artist when I was in high school, because I was much interested in arts. So I was looking for an art-related club and joined the theater club. That's how I fell in love with theatre, which creates something from nothing by interpreting written pieces."
After spending another year studying fashion design after graduation, Kim started her master's degree course at University of Illinois at Chicago in 1981 to study stage costume design further.
"I once thought about following my major in college and pursuing a career in media. But to realize my life-long dream, I made a decision to study stage costume, which I can pursue both theatre and fashion design. Family and others around me dissuaded me, but I started studying abroad with a single dream to be the best in the field."
After two years of M.A. course, she once again started taking another course to obtain a Master of Fine Arts terminal degree in Costume Design from University of Illinois at Urbana-Champaign. The curriculum was challenging, especially as she was one of the only Asian students taking the notorious course. However, her talent in drawing and design stood out and she was awarded scholarships.
Birth of Musical The Last Empress
After obtaining the M.F.A terminal degree, Kim flew back to Korea to teach Costume Design and Theatre at Hanyang University, Chung-Ang University, Seoul Women's University, Korea National University of Arts. Being at the center of the limelight as one of the first stage costume designers who studied abroad, she participated in a number of famed plays as a stage costume designer.
Spending a decade busy as a named stage costume designer as well as a mother of two daughters, Kim encountered with The Last Empress. Stage costumes for the musical, which is still referred as Korea's representative piece with over 1,000 performances and 1.6 million audiences since its first performance in 1995 at Seoul Arts Center, were created with her touches. From research to sketch to production, the whole process took her a year. It was a rare large-scale project at that time, with about 600 costumes and over 1,000 pieces of garments.
"Stage costumes are not those displayed in museums. Although it comes from historical backgrounds, the style is re-created to fit the performance. That's why costumes in The Last Empress used vivid western fabrics like velvet, organza, jacquard, and laces, in addition to exaggerated lines and forms in design to make the stage look rich and majestic."
The Last Empress' magnificent stage costumes charmed audiences in the U.S., England, and Canada, as well as their local media. She was awarded at Korea Musical Awards with The Last Empress in 1996, at Baeksang Arts Awards with Ratsnake Groom and His Bride, and at DongA Play Awards with Song of Wanders in 1999. She continued to build her career to be the country's representative stage costume designer by participating in celebrated pieces, including Opera Carmen (Korea Opera Group, 1998), Korea Fantasy (National Theater Company of Korea, 2000), Dance, Chunhyang (National Dance Company of Korea, 2001), and Subway Line 1 (Hakchon, 2001).
Act II: Professor in the US
In 2005, Kim makes a sudden choice to the U.S., as she was appointed as an associate professor at Ball State University's Theatre Department.
12 years have passed since then, she now says she had been happy in lecture rooms, despite struggles she went through as pursuing a new life over 50.
"It is worthwhile to teach students. Their success makes me even happier and such joy makes me forget all the labors. I think I have a vocation in teaching."
She is continuing her career as a designer as well, taking in charge of 40 performances at Pan Asian Repertory Theatre in New York, Capital Repertory Theatre, and more. She is also busy with the stage costume design for A Midsummer Night's Dream to be on stage in May next year at Shakespeare Festival in San Francisco. Last year, she moved to California as she was appointed as an associate professor of Costume Design at California State University, Fullerton.
She has been chasing her dream without stopping, but Kim still has thirst for a new stage.
"I love films, so I want to challenge in costume designs for a film if circumstances permit. I also want to work with Koreans in Hollywood one day."
Original article by Joo-hyun Yi