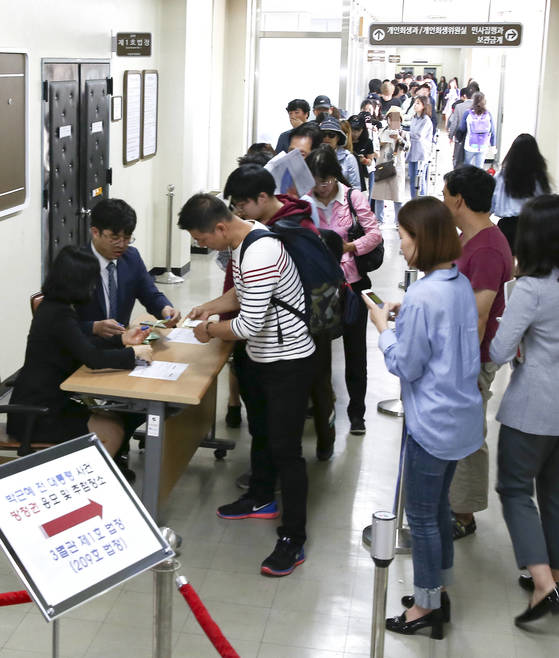 More than 500 Korean citizens flocked to Seoul Bankruptcy Court for the drawing to attend former President Park Geun-hye's first hearing. On May 19, the Seoul Central District Court held a drawing for the 136 spectator seats, which will be evenly distributed between trials on the 23rd and 25th.
Citizens came for the drawing for different reasons. "I want to see Park paying for what she's done," said a 24-year-old college student, while a 47-year-old woman from Seoul said, "I want to see Park speaking her thoughts in her own voice."
There were Park's supporters as well. "Media manipulated the truth and imprisoned Park," said a 69-year-old supporter. "The trial will reveal that she did not know anything about the case." Another supporter came to see Park because he was "worried that former President Park is very sick and almost dying."
The drawing started at 11:15 AM. Although people who participated in the drawing were to be notified the results through text messages, many remained at the court to see if their numbers are called.
The first public hearing for former President Park will be held on Tuesday, May 23 at 10 AM at the Grand Courtroom of Seoul Central District Court.
Original article by Song Seung-hwan
Translated by Heewon Kim