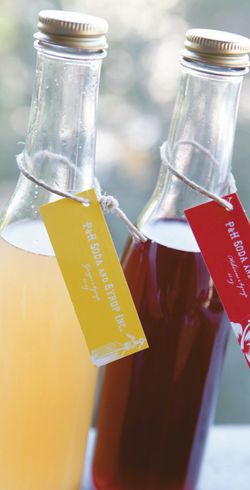 Whether served hot or cold, teas made with homemade fruit syrups are refreshing, tasteful, and healthy. When it's cold outside, hot teas made with citrus fruits, such as orange and lemon, prepare you against getting a cold. When it gets hotter, iced teas made with homemade fruit syrups and sparkling water offer you refreshing breaks. What makes them better is that fruit syrups are easy to make.
Homemade fruit syrups serve as good anti-stress aids. When you get stressed, a steroid hormone called cortisol calls of sweets. Instead of processed sweets, drinking teas made with these homemade fruit syrups will help reduce your stress level in healthier ways. Also, fruits, which are inedible for their lack of sweetness, can be made edible when you preserve them as fruit syrups.
However, you have to keep in mind that fruit syrups still contain much sugar even though they are healthier than other processed sweets. To prevent over intake of sugar, you can replace sugar with sugar substitutes such as xylitol sugar.
When your fruit syrups are too sweet, few slices of ginger can balance the sweetness. Other spices, such as clove, also can make your fruit teas taste more refreshing and deep. Using honey when making the syrup also helps.
Another benefit of homemade fruit syrups is that you can taste seasonal fruits whenever you want when you store them into syrups. Tangerine is one of seasonal fruits that is good when made into syrup, as well as various kinds of berries, which are good with milk and yogurt.
You can also make healthy cereals using your homemade fruit syrups. Use oats, wheat bran, or other your favorite cereal ingredients and simply mix them with your homemade fruit syrups to make fresh and fruity homemade cereal.
Original document available from http://www.koreadaily.com/news/read.asp?art_id=4038505
Translated by Heewon Kim