Korean-American actor Steven Yeun, who is famous for his role as Glenn in the popular American TV series The Walking Dead, presented an optimistic view on Hollywood's future, especially in relation to its longstanding whitewashing issue.
On June 26, the famed Asian-American actor made an appearance in a Korean TV show, Non Summit, where the "non-representatives" from different nations discuss various national/international social issues. In the show, Steven Yeun and the rest of the panel talked about an agenda regarding communication between people from different cultures.
While the actor and rest of the panelists freely shared their thoughts on different topics, including his upcoming Netflix film, Okja, one of the panelists brought a sensitive issue to the table: the whitewashing in Hollywood.
To the question asking how an Asian actor can survive in Hollywood in the face of whitewashing, Steven answered with an optimistic voice about the direction in which Hollywood is changing.
"I think it's a very complex issue because we are dealing with a lot of different factors," said him. "I think there is a true history of suppression of Asian-American voices, but what I do see is that we are in the midst of a transition."
The actor continued by expressing how he feels fortunate to be able to act less stereotypical roles. "I'm honored to be a part of any movement forward. Which I think Glenn [from The Walking Dead] was able to accomplish to a certain degree."
"We still have less opportunity than other counterparts. But I will say that Hollywood seems to be changing in that direction."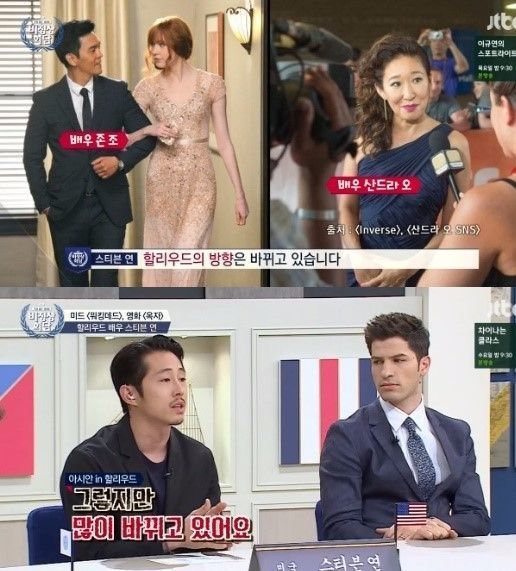 Steven also emphasized the need for Asian actors and actresses to become role models for young Asian-American kids.
"Where I have hope is time," the actor concluded, seeing more room for various ethnic groups in Hollywood in the future.
Steven Yeun also answered a question asking if his character in The Walking Dead, who was brutally killed last season, will make a return on the show.
"Never say never, but probably not."
By Heewon Kim