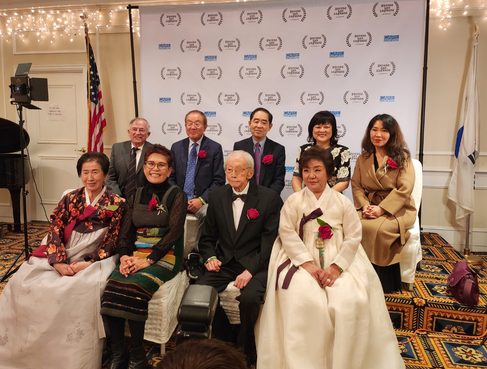 Celebrating the 120th anniversary of the arrival of the first Korean immigration to the U.S., many eyes were on publishing a book introducing Korean community leaders selected by teenagers who are second and third-generation Korean American.
The publishing event for the book 'Heroes and Legends' was held at JJ Grand Hotel in Korea Town, LA last Saturday. The teenagers, who prepared the party invited first-generation Korean heroes and legends selected to mark the 120th anniversary of Korean-American Day to express their gratitude.
The Heroes and Legends of 2022 are ▶William P Min, the first-generation lawyer ▶Dr. Kenneth Klein, the former Head of the University of Southern California East Asian Library ▶Dr. Susan Chung, Psychiatrist and founder member of Korean American Family Service(KFAM) ▶Dr. Manchul Cho, Psychiatrist in charge of counseling Korean victims during the LA riots ▶Eunghwa Kim, Traditional Korean Dancer ▶Jungduk Yoon, Hanbok Designer ▶Tami Cho Zussman, founder of nonprofit organization 'DoVe' ▶Peter Kim, marathon coach ▶ Jackie Koo, Leader of Valley Youth Philharmonic Orchestra ▶Yeon Hun, the publisher of Sunday Journal ▶Kevin Lee, florist and wedding planner.
The students who invited these heroes and legends were Olivia Cha, Diane Cho, Joy Han, Philip Han, Celine Hong, Gyubin Kim, and Joowon Kim, who are currently in middle and high school in the U.S. They produced a documentary and raised about $5,000 through fundraising to publish books through the project "Heroes and Legends(H&L)," which they launched last year.
The students who are part of the projects said, "I realized once again that the Korean community was able to grow because of the invisible efforts of the first-generation Koreans by making the book, and we will be proud descendants of our immigrant ancestors."
Director Christoper HK Lee, who oversaw the H&L project, said "Students gathered every weekend to research, so I'm proud that the results of their efforts will come out in books."
Director Lee said, "This Award is to recognize and honor our community heroes and legends for their lifetime achievement, services, and generosity in making a positive impact on our youth and younger generation" adding, "I plan to expand this project to discover and record our forgotten ancestors."
Christine Shin, Director of the Korean Real Estate Brokers Association of Southern California, described herself as 1.75 generation who immigrants to the U.S. as a child, said, "it is an honor to express our gratitude to those who provide an extraordinary contribution to our community. I hope this project will continue so that their's vision can be inherited to the next generation."
By Yeonhwa Jang, Gyeongeun Park