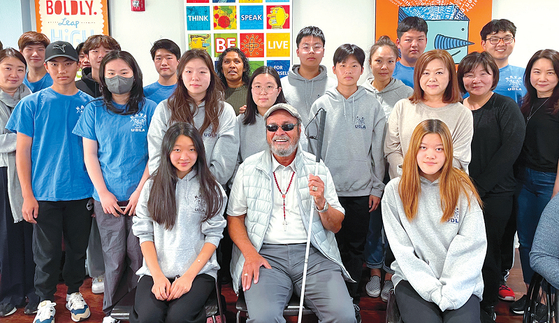 "Hands Across Koreatown," a community-wide celebration event of racial harmony, is returning after four years.
Organized by the Unification of Disabled Latin American (UDLA) and their Korean American student outreach team called the Korean American Youth Program (KAYP), the event will take place on Saturday, May 20, at 10 a.m. at the corner of Wilshire Blvd. and Normandie Ave.
A total of 20 organizations, schools, and churches from Los Angeles Koreatown and nearby communities will participate, including L.A. politicians and the LAPD's Olympic Police Station.
The event will feature speeches from invited speakers calling for peace and unity, with everyone in attendance holding hands for five minutes to form a human chain.
According to the organizers, "Hands Across Koreatown" is returning after a four-year hiatus due to the pandemic, last held in 2019.
The event, which began in the wake of the 1992 L.A. riots, is meant to bring communities together to build unity and understanding in a multiethnic city and to work together to ensure that nightmares like the 1992 riots do not happen again.
"It can be scary to hold each other's hands in these times," said UDLA President Ruben Hernandez, "but by holding hands across all ages, religions, and races, we can create a human chain of love and unity between communities."
KAYP student Ashley Han, 17, who is participating for the first time, said, "I hope that everyone, young and old, will take this opportunity to hold hands to connect with each other and build unity."
Hyunji Hong said, "I'm glad I came across this program, and I'm excited to be a part of it," adding, "I think it's great that people of different ethnicities in Los Angeles are coming together to get to know and communicate with each other."
Celebrating its 49th anniversary this year, UDLA founded KAYP in 2001. It began when Korean American parents approached the organization after seeing UDLA members doing community service.
Currently, KAYP, which has a total of 50 students in Los Angeles and the Valley, collects and sells recyclables such as plastic bottles to raise funds for UDLA and participates in street cleanups, crime prevention campaigns, and basketball tournaments for the disabled.
BY SUAH JANG [support@koreadaily.com]