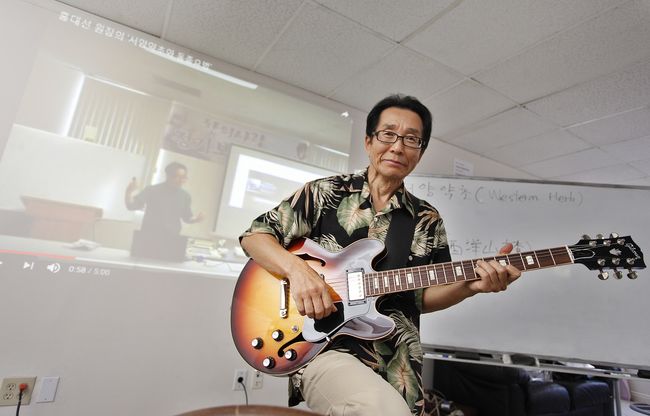 A 60-year-old guitarist practicing acupuncture. Even after talking to him for a while, it was difficult to imagine him performing rock music on stage. However, he almost starts to look like Jeff Beck from the 70s as soon as he grabs his guitar for the photo shoot.
His name is Dae-sung Hong. He founded the Korean rock group Black Tetra in the past. He has now lived in the U.S. for over two decades, but is still actively performing music.
#Black Tetra, the birth of the legend
Born and raised in Seoul, South Korea, Hong first fell in love with rock while listening to AFKN radio as a middle school student. Jimmy Page and Eric Clapton were two of his idols. Then, a guitar he got as a gift from his sister during his freshman year in high school began to change his life.
He couldn't take his hands off of the guitar. Schoolwork soon became second priority for Hong. His parents were obviously not too pleased. Upset by his son's negligence in school, the father ended up destroying the son's guitar.
"I couldn't play guitar anymore, so I spent the next 31 years studying," Hong said, laughing. "I attended an engineering school as his parents wanted him to, but I truthfully chose to go to college to start playing music again without having to worry about my parents."
After graduating from Paichai High School in 1974, Hong was admitted to Hongik University as an electrical engineering major. He soon enrolled in a music school close to the campus and learned how to write his own songs. Hong teamed up with Chang-mo Koo, who eventually went on to become the lead vocal of South Korea's legendary rock band Songolmae.
The two knew each other from attending the same high school and college. The band they created was Black Tetra. Hong named the band himself. Black Tetra won all sorts of music awards in Korea throughout the 70s and became the symbol of all rock bands for college students at the time. Black Tetra then joined forces with another popular band Hwaljooro, giving birth to what fans know today as Songolmae.
However, Hong could not be a part of the band's primetime he worked so hard to accomplish. By the time Songolmae went on its barnstorming tour of the Korean peninsula, Hong was studying in Los Angeles.
#From guitarist to acupuncturist
Hong was advised by his aunt to study business management when he first arrived in L.A. in 1982. He decided that business was not for him and stopped his studies after only two years. That is when he started to give guitar lessons to make ends meet. He initially paid for a small advertisement in a Korean-American newspaper. Inquiries came pouring in. A Korean church in L.A. asked him to teach to group lesson, which eventually led to Hong forming a praise band.
The reception was truly inspiring as the band performed on stage every Sunday. They were even invited to perform in other states. In 1986, he married Young-ran Hong, now 55, after meeting her at his guitar lesson. Hong briefly operated a hamburger shop after marriage, but enrolled in Samra Acupuncture University in 1991.
"I was able to fix a skin irritation through acupuncture at a really young age," Hong said. "I've always had interest in acupuncture, but I decided to finally study it after getting married."
Hong was truly dedicated to learning acupuncture, so much so that he even studied Chinese as he wanted to read the original text of the existing medicines. He earned his master's only two years later and became a lecturer at the school shortly thereafter.
"As I kept studying acupuncture, it became even more fun than playing guitar," Hong said. "I didn't even think about playing guitar for a long time after starting my studies."
In 1995, Hong went to Wonkwang University in South Korea as a guest researcher to further his studies. After coming back to L.A., he primarily taught acupuncture to students.
#Becoming a herbal medicine missionary
Hong opened his own acupuncture clinic in Tustin in 1996. He studied Western herbal medicine in more depth and focused on raising its awareness.
"I piqued an interest in Western herbal medicine after curing my allergy with Echinacea in college," Hong said. "I studied different types of medicines consistently since then. I even grew 100 different types of medicines in my backyard and focused on informing the Korean community."
As Hong's popularity grew, he began to receive invitations to provide lectures at other schools. He soon became something of a "Western herbal medicine missionary." That is also when Hong began to write columns about Western herbal medicine. In 2008, Hong authored the book, "Western Herbal Medicines Every Acupuncturist Should Know." He started playing music again in 1997 after creating a band with his family, called Hong Family Band.
"My wife was worried as I couldn't spend much time with our children because I was too busy," Hong said. "So she suggested that we start our own band. I was content with simply playing music with my family at first, but we pretty much became a professional music band after less than a year as we were asked to perform at events a couple of times a year."
Hong played the guitar, while his wife played the bass. Their then 9-year-old son Sydney played the drum with 7-year-old Sophia was both the lead vocal and keyboardist. The family started to perform four times a month at Korean churches and senior homes. They traveled around quite a bit for seven years until Sydney went off to college.
Six years ago, the couple revived the band as Acoustic Trio after teaming up with saxophone and clarinet player Min-ju Na. Hong is clearly a guitarist at heart who always misses the stage, but his primary job is an acupuncturist. He is currently running an acupuncture clinic in Fullerton as he is also providing treatment at an orthopedics in Fullerton.
"It's easy to obtain information on Western herbal medicine everywhere else in the country," said Hong. "But it's not as popular in the Korean community. So I still want to focus on promoting it. It's something someone has to do at some point in time."
Hong seems like a person who pursues happiness by offering what he has to others. He gave consolation and happiness on stage. As an acupuncturist, he took care of patients and provided helpful information. Music and medicine may seem like two totally different areas in life, but Hong has been delivering happiness regardless of which role he has played between the two.
By Joohyun Yi