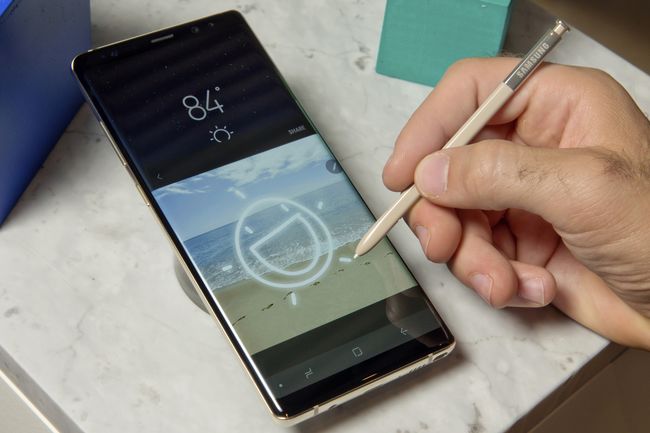 The Galaxy Note 8, South Korean tech giant Samsung's latest smartphone, has taken the market by storm only a day after pre-ordering started.
Verizon, AT&T, T-Mobile and Sprint have all began taking pre-orders, along with promotions and special plans to attract more customers.
Samsung has also begun its own promotion, while Target and Best Buy are also offering discount benefits in an effort to expand their reach.
Below are the promotions for the new Galaxy Note 8.
Those in the industry advised that consumers should carefully review the conditions of each promotion.
◇ Samsung
Samsung has started a promotion until Sept. 24 to give away Gear 360 camera (worth $230) or wireless charger and 128-gigabyte micro SD card ($190). The official release date for the Note * is Sept. 15. Hence, anyone who purchases the smartphone before Sept. 24 will be eligible for the promotion. Target and Best Buy are also offering $150 gift card in addition to a $150 discount.
◇ Verizon
All wireless providers are offering the standard Note 8 deal—purchase of the phone for $960 over 24 months ($40 a month). However, a trade-in for a previous phone could warrant up to 50 percent discount ($480). Phones eligible for a trade-in are iPhone 7 and 7 Plus, LG G6, Galaxy S8 and S8 Plus, S7 and S7 Edge, Galaxy Note 5, Google Pixel XL and Moto Z Force. Other phones only warrant up to 25 or 35 percent discount.
◇ AT&T
The Note 8 from AT&T would cost slightly less than Verizon at $950 over 30 months ($31.67 a month). If the customer who purchases the Note 8 also signs up for AT&T Next Plan and DirecTV deals, Samsung TV is available for just $500. In addition, smart watch Gear S2 is available for $0.99 and Gear S3 for $49.99 for customers who sign two-year AT&T Next Plan contract. A trade-in with a previous smartphone warrants up to $200 credit.
◇ T-Mobile
T-Mobile offers the least expensive Note 8. The price is just $930, $30 cheaper than Verizon and $20 cheaper than AT&T. The payments could be made over 24 months ($39 a month) or 30 months if the customer makes a $210 down payment.
◇ Sprint
Note 8 is available for $960. For customers who have been with other providers, signing an 18-month lease deal warrants a 50 percent discount, which makes the monthly payment available for just $20. Customers who have made payments over 12 months through the Galaxy Forever program can upgrade to a new Galaxy smartphone at any time.
By Sungcheol Jin