Is Seoul soon on the verge of getting its own Michelin Red Guide?
Local food aficionados have been generating buzz about the possibility that the famed French restaurant and hotel guide might be planning to publish a Seoul edition.
Michelin Guides, with their preeminent three-star rating system, are known for influencing the popularity of chefs and the success of restaurants, as well as for promoting tourism to featured cities.
Expectations for a Seoul guide have been increasing lately as the 116-year-old institution has been releasing new guides on various Asian metropolises in recent years, such as Hong Kong and Tokyo. Rumors abound that guides on Shanghai and Seoul are bound to be out next, with speculations that secret scouts for the guide are even now investigating which restaurants to include.
As a result, many high-end restaurants and luxury hotels in Seoul have allegedly been developing new menus, renovating their interiors, changing up their tableware and table decorations and fine-tuning their service in hopes of nabbing those coveted Michelin stars.
Michelin Guides, which were originally created by the tire company to promote car travel, grant one star to restaurants that are worth a stop, two to places that are worth a detour, and three to dining establishments that are so good they're worth a special trip. Michelin three-starred restaurants are considered by many to be the best in the world.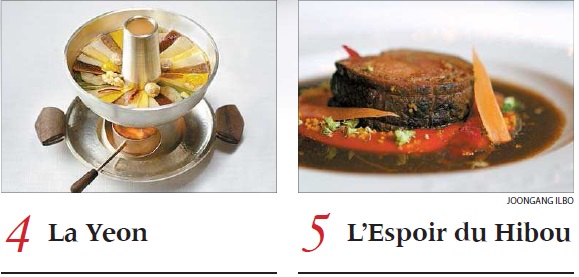 Best of the best
Recently, the JoongAng Ilbo decided to look into which 10 restaurants in Seoul have the highest chance of being included in a potential Seoul guide. The newspaper conducted a survey of professional chefs, hoteliers, journalists for food magazines, food critics and experts in the wine industry.
A total of 62 food connoisseurs answered the survey, which was conducted during two weeks and wrapped up earlier this month. The group consisted of 47 men and 15 women and a total of 11 foreigners, including those of Korean descent.
The survey asked the epicures to choose three restaurants in Seoul they believe are worthy of Michelin stars and give their opinions on how Seoul can become more Michelin-ready.
The No. 1 restaurant nominated by experts as having the highest potential of getting a star rating was Jung Sik Dang, which chef Yim Jung-sik opened in 2009. It serves dishes inspired by Korean cuisine. Yim also opened a Korean restaurant in New York called Jungsik in 2011. Since the restaurant in New York earned two Michelin stars back in 2014 and retains them to this day, many expect the Seoul establishment to one day earn a similar honor.
Mingles, which like Jung Sik Dang is located in the affluent Cheongdam-dong neighborhood of southern Seoul, was the second most popular choice by local gourmands. It is relatively new establishment, as it opened in May 2014, but it has become one of the hottest restaurants in town and hard to get a reservation at. Prospective diners have to book about a month in advance to secure a table.
Chef Kang Min-gu, who worked as head chef at the Bahamas branch of the American modern Asian restaurant Nobu, uses fermented sauces to present his own interpretation of Korean cuisine.
"The dishes with delicate taste [at Mingles] not only satisfy local Koreans, but also appeal to foreigners," said instructor Im Seok from SPC Culinary Academy. Mingles was also the top choice among female survey respondents.
In third place was Pierre Gagnaire Seoul, opened by the world-renowned, three-Michelin-starred (2001-2008) French chef Pierre Gagnaire. It was said that Lotte Hotel Seoul, where the restaurant is located, invested 7 billion won ($5.8 million) to open the restaurant back in 2008.
The rest of the top 10 list comprises La Yeon, a Korean restaurant at Hotel Shilla; L'Espoir du Hibou and Palais de Gaumont, both French restaurants in Cheongdam-dong; Palsun, a Chinese restaurant at Hotel Shilla; Sushi Cho at the Westin Chosun Seoul; Ryunique, a French fusion restaurant in Garosu-gil, southern Seoul; and Gaon, a Korean restaurant in Sinsa-dong, southern Seoul.
French focus
As the results of the preliminary survey show, the main factors influencing the choice of a restaurant as a Michelin Guide candidate seem to be serving modern-style Korean or French cuisine and the chef's previous Michelin star rating.
The fact that four of the top 10 restaurants are French reflects the assumption that the Michelin Guide, which originated in France, tends to gravitate toward this type of cuisine.
Indeed, since the Michelin Guide for Hong Kong and Macau was first published in 2009, the only three-star restaurant in Macau until 2014 was a French restaurant called Robuchon au Dôme. Food experts say this means it is easier for a restaurant to earn the highly sought-after stars if it serves French food.
It is also worth noting that among the Korean restaurants nominated by gastronomes, those serving modern-style Korean cuisine were more popular than traditional eateries. Modern Korean cuisine usually refers to dishes that feature Korean ingredients prepared using more modern or international techniques. In the survey results, Jung Sik Dang and Mingles, which serve modern Korean food, ranked higher than La Yeon or Gaon, which offer more traditional Korean food.
When expanding the survey results to include the top 20 most recommended restaurants by experts, the list includes four more modern Korean restaurants and only one more traditional Korean restaurant.
In other words, it looks like the food aficionados generally believe Korean food with a Western twist is more suitable for the Michelin Guide than traditional Korean food. However, some expressed worry over this trend.
"If such Korean restaurants get stars, some may assume that this is traditional Korean-style food," said Ra Chae-il, who is part of the cooking team at the Ritz-Carlton Seoul.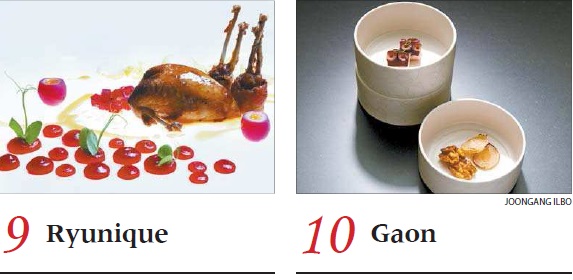 Room for improvement
Although most experts surveyed agreed that there is a high possibility that Michelin will soon publish a guide for Seoul, five participants responded that it's not likely. They said it's too early for Korea to be getting a guide, explaining that there is not enough content to fill a whole Michelin Guide book, and Korea has a relatively shorter history of fine dining culture.
The Tokyo edition, which first came out in 2007, initially included 560 restaurants and 39 hotels. And Hong Kong and Macau are combined into one guide. Because of this double feature, there are rumors that Seoul will be combined with Shanghai in one guide book.
Another reason to be skeptical about the imminent release of a Seoul guide is that it might not be commercially lucrative enough. The tire company publishes the restaurant and hotel guides in order to make profit from selling the books and to expand market share in the featured cities. There is the question of whether Korea is an attractive market for the company.
"There are some rumors that Japan paid a lot of money to bring in the Michelin Guide," said Lee Yun-hwa of local restaurant guide Diary R. "If Michelin really publishes a guide on Seoul, it not only needs potential to be a city known for food, but also needs to have very powerful sponsors."
Many of the experts surveyed agreed that even if Seoul does welcome the arrival of the Michelin Guide, the city's fine dining scene has a lot it can improve on, especially in terms of service.
Unlike restaurants overseas that foster professional service managers to provide exquisite service, local restaurants hire part-timers who are less experienced. Many customers also don't consider being a restaurant manager as a proper job, so it is not easy to find talented trainees. This vicious cycle usually results in subpar customer service.
"Unless we establish respect between customers and service personnel like in foreign countries, the development of the service sector can only stumble," said Lee Jun of the modern Korean restaurant Soigne in Gangnam District, southern Seoul. "A change in point of view on service personnel alongside the professional training should come together."
Many aficionados also pointed out that basic dining etiquette is poorly developed in Korea. Many chefs mentioned that people not showing up for their reservations is a serious problem, as well as the widespread idea that restaurant customers are kings who deserve the ultimate in service.
"We had to leave two tables empty for dinner on Christmas Eve because customers who made reservations in advance didn't show up," the owner and chef of a restaurant in Cheongdam-dong explained. "Customers need to keep their reservations and try to enjoy the served food instead of comparing it [with others]."
BY KANG HYE-RAN, SONG JEONG AND KIM SEON-MI [summerlee@joongang.co.kr]