Few weeks ago, Birdies LA was listed on the 16 Hottest Los Angeles Cheap Eats Restaurants for its affordable yet still delectable fried chicken menu. However, you can also find a food item that is not quite affordable – a $100 24-Karat gold donut.
Identity of Birdies is rather ambiguous. Google categorizes Birdies as a cafe, but when you visit Birdies, you will soon realize that "cafe" is not an ideal term to define this place. In the morning, their coffee and freshly prepared donuts are stars among busy DTLA business people. In the afternoon, chicken sandwich makes an ideal lunch item for its affordable price. Their DIY donut menu is also popular, yielding the control of flavor-making process to the customers.
However, the real star at Birdies is something more special. With prior reservation, you can order the 24-Karat gold donut here. Chef/owner of this place, Jason Harley, says that he first made this special treat as a gift for his friend, singer-songwriter Robin Thicke.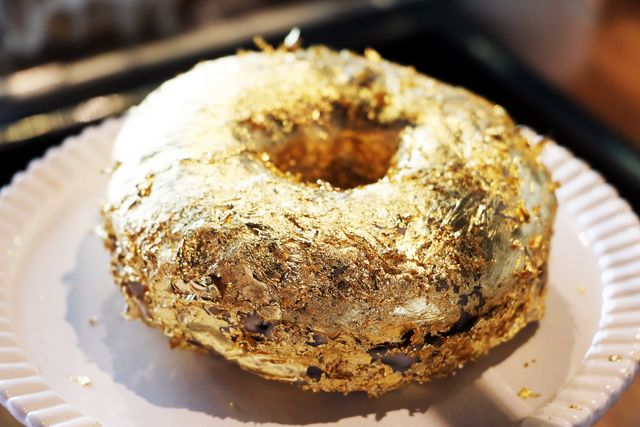 Even though they sold only three gold donuts in past two weeks, this doesn't mean that these luxurious donuts are not popular. 24K gold donut is going viral on social media and many people visit Birdies to actually see it. As people doesn't leave with empty stomach, gold donut is working also as an effective marketing tool.
Other donuts taste as golden as gold donut, or even better. Here, you can get your donut in DIY style, with given choices of glaze and topping. Freshness of donuts and fried chickens is another reason to visit Birdies. With an aim to keep ingredients fresh, they don't even keep a refrigerator in the store.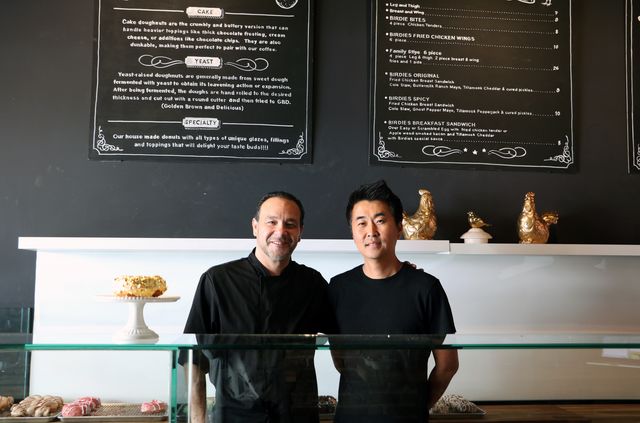 Even though they only recently opened their first store, Jason Harley and co-founder Keith Bae express their wish to take Birdies to a national level, and moving further, to an international level.
Original document available from www.koreadaily.com/news/read.asp?art_id=4216183
Translated and edited by Heewon Kim