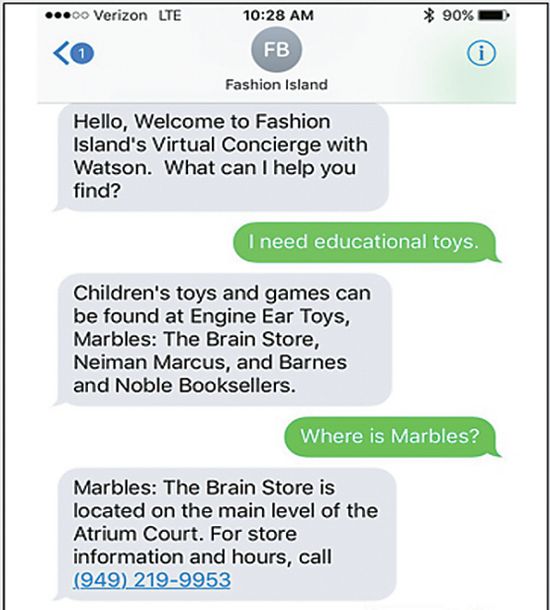 Fashion Island, a premier shopping center in Newport Beach launches the AI-implemented concierge service.
Irvine Company, the mother company of Fashion Island, announced the launch of a pilot program called "At Your Service," a new mobile texting service that uses artificial intelligence to help customers shop and navigate the retail center.
"At Your Service" partners with Satisfi, a location-based intelligent-engagement platform, and IBM Watson, which is famous for beating "Jeopardy!" mega-champions. The service is similar to Apple's Siri, which answers to any question in real-time. The only difference is that "At Your Service" recognizes the question through mobile text instead of voice.
Simply text 949-734-7364 and ask any question regarding shopping, then you'll recieve a reply in a few seconds. Not only it provides information like the location of specific brand, operating hours, parking lot, and restrooms, but it also responds to simple keywords like sunglasses, coffee, and shoes.
Irvine Company expects the accuracy of the service to improve as its system receives more questions from customers. The service is available both inside and outside of the shopping mall.
Original article by Korea Daily Los Angeles
Translated by Narae Lee